McDs Monday observations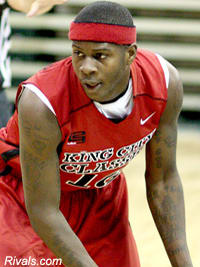 COLUMBUS, Ohio
- On Monday at the McDonald's All American practices the West squad demonstrated a high level of shooting ability while the East showed off its ability to play above the rim. One of the more impressive athletes for the East was electric combo guard
Josh Selby
.
With an array of explosive dribble moves, Selby continually slashed to the basket during the East practice.
Joe Jackson
and
Kyrie Irving
just did not have the physical presence defensively to contain Selby.
One of the top athletes in the class,
C.J. Leslie
spent much of the practice above the rim. While Selby was the most explosive player on the perimeter, Leslie was the dominant interior athlete.
Tobias Harris
impressed with his driving ability. He consistently broke down the defense and drew a number of fouls.
Jared Sullinger
had one of the more impressive skill plays of the session when he drove the ball hard to the left from the high post and finished with a left handed bank shot from outside the lane.
As usual,
Reggie Bullock
impressed with his outside shooting from the wing.
EAST
The other observation of note during the West's limited scrimmage time was the defensive prowess of
Cory Joseph
.