McDs East breakdown: Day 2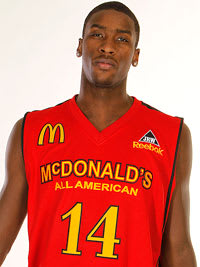 CHICAGO
- Going into McDonald's All-American Game practice week, shooting was considered the strength of the East squad. What wasn't expected is that
Mike Gilchrist
would shoot as well from outside as he has during the first two practices.
Mike Gilchrist
(
Kentucky
)- There has never been a question about Gilchrist's competitiveness, toughness, effort or ability to make plays as a slasher, post-up player or rebounder. The one big question has been whether or not he will ever shoot the ball well enough to warrant an elite-level ranking as a wing prospect. The evidence over the last two days answers in the affirmative. Gilchrist hasn't shown NBA range, but he has shot the ball well right at the college three-point line and has stroked it from the mid-range. More importantly, he looks confident going into his shot and his shooting stroke looks much smoother.
Kentavious Caldwell-Pope
(
Georgia
)- No one has shot the ball better over the course of the first two practices than Caldwell-Pope. Comfortable spotting up for jumpers as well as shooting off the dribble, Caldwell-Pope's best trait might just be his ability to shoot accurately from deep range coming off screens. Add his ballhandling ability, feel for the game and length and you have a prospect who is pushing toward elite status in his class.
Chane Behanan
(
Louisville
)- Higher-ranked big men on the East such as
James McAdoo
and
Rakeem Christmas
have provided a couple highlight plays each practice, but Behanan has been the most consistently productive of all the bigs on the East. Behanan doesn't have the length of his competitors but he has a significant strength advantage and an impressive skill game as well. His strength-based athleticism gives his longer opponents trouble.
P.J. Hairston
(
North Carolina
)- Another top shooter on the East, Hairston has the best shooting range of any of the McDonald's All-Americans. He doesn't have the athleticism of
J.R. Smith
in the NBA, but the way Hairston shoots the ball from so far out resembles Smith. Although he might not match Smith athletically, Hairston does have a bounce to his step this week and has scored the ball in different ways than just shooting from deep. He scored with creative athleticism inside the paint as well.
Rakeem Christmas
(Syracuse)- His production can come and go, but Christmas has the tools to be a very effective big man. So far in the practices, he has been quick off the floor and has shot the ball well from the mid-range.
James McAdoo
(North Carolina)- McAdoo hasn't had a big impact inside in the half-court offense, but he has been quiet impressive filling the lanes and finishing with authority on the fast break.
CLOSING THOUGHTS
[rl]