McDonald's Nuggets: California's new law, Duke recruiting, more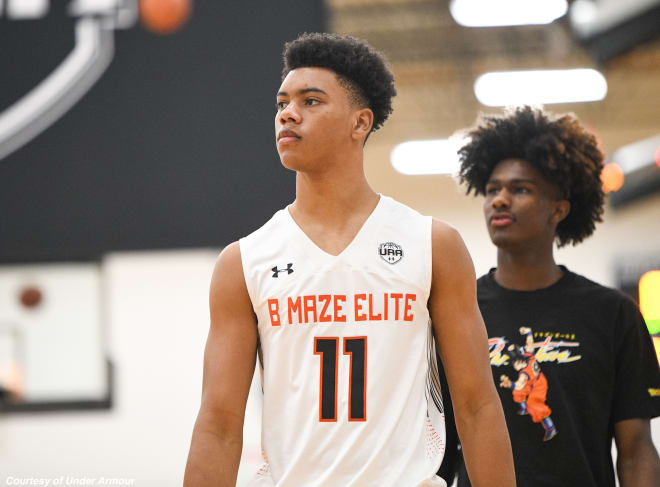 Dan McDonald is back with his weekend primer, McDonald's Nuggets. This week's edition includes more "Name, Image and Likeness" talk, a visitor to watch, Duke's search for another post player and the Commit of the Week.
MORE: 3-Point Play on UNC, Memphis, more
2020 Rankings: Rivals150 | Team | Position
WHAT'S ON MY MIND: More on the "Name, Image and Likeness" conversation
The biggest topic of the week in college sports is one we have discussed in this column a few times this year, and that's the new law passed in California that allows college athletes to profit off their name, image and likeness. As I've mentioned many times before, I'm completely in favor of this change for a number of reasons.
The one example I always go back to whenever somebody pushes back on this new rule is pretty simple, and I've yet to come across anyone with a good response to it. Under current NCAA rules, if any top college athlete - whether it was Zion Williamson last year or Tua Tagovailoa this year - signs an autographed shirt and sells it to me for $100, it's an NCAA violation that impacts his/her eligibility. If I were to go get Anthony Edwards or Cole Anthony to sign a shirt for free, I could go sell it to a fan for $100 and there is no problem. That just doesn't feel right to me.
I've really taken time to listen to those against athletes being able to profit on their likeness. The most notable person in college hoops I have seen come out firmly against it is Doug Gottlieb, whom I have a ton of respect for. He does bring up a lot of good points on how fans do root for the school over the player and that there is a ton of value in a college scholarship. I don't disagree with either of those points. I do think people undervalue college scholarships and how much they can mean if an athlete truly takes advantage of the college experience. I just push back with an example such as Todd Gurley missing four games for signing some autographs at Georgia, yet somebody like me could do the same thing and profit off him with no issue.
I can't get past how ridiculous that is.
Another aspect of the California law that I really like is that it doesn't go into effect until 2023. What that does is allow the NCAA, other states and anyone else involved in college sports to figure out exactly how this works. There are a number of questions that need to be answered here. Are schools going to be allowed to have somebody on staff help facilitate these deals? What happens if a prospect agrees to a deal at one school and then transfers? Is there a buyout structure there?
VISITOR TO WATCH THIS WEEKEND: Jaden Springer to Tennessee
Much of the focus in the basketball recruiting world this weekend will be on Memphis and the star-studded lineup of recruits Penny Hardaway has coming in this weekend for its Midnight Madness event. However, on the other end of the state, Tennessee is hosting its top remaining target in the 2020 class, with five-star guard Jaden Springer coming to town. The Volunteers have long been seen as one of the top contenders for his signature in November. Springer has already visited Memphis and Michigan, so he'll be on the clock for a decision when he returns from Tennessee.
RECRUITING NOTE: Duke's search for another big man in the 2020 class expands
It's been an eventful couple weeks on the recruiting front for Duke. The Blue Devils have added a big commitment from four-star power forward Henry Coleman, but lost out on five-star center Walker Kessler to North Carolina after many thought the Blue Devils had the lead going into the visit. The search to add to the frontcourt continues for Coach K, with a couple new offers going out this week. The first offer to go out went to four-star center Hunter Dickinson. Prior to the Duke offer, Florida State, Louisville, Michigan, Notre Dame and Purdue were seen as the top contenders, but his newest offer certainly could shake up his recruitment. Keep an eye on a visit being set here.
The most recent offer by the Blue Devils staff went to four-star power forward Jaemyn Brakefield. Auburn, Louisville and Michigan are also involved in his recruitment. But again, it's never a reach to assume a Duke offer could change the landscape for a top prospect like the No. 36 prospect in the 2020 class.
COMMIT OF THE WEEK: Caleb Love to North Carolina
There have been several significant commitments made in the past week, but none will have a bigger impact next year than Caleb Love's decision to choose North Carolina. His commitment comes just over a week after he took his official visit to Chapel Hill alongside five-star big man Walker Kessler, who committed right after the visit. Love's commitment gives the Tar Heels three five-star prospects in the 2020 class and one of the better passers in the country to get the ball to Kessler and Day'Ron Sharpe. North Carolina's attention now turns to adding some scoring punch on the perimeter. Five-stars Cade Cunningham, Ziaire Williams and Bryce Thompson have all been on official visits in the past month and are all viable options.