McCullough breaks out at Hoop Group Elite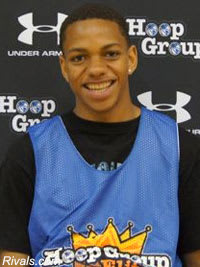 READING, Pa.- After spending two days in Philadelphia at the Reebok Breakout Challenge, Rivals.com headed an hour or so to the Northwest for the Hoop Group Elite camp. Held on the campus of Albright College, the Hoop Group Elite camp is a traditional basketball camp, just with high level players. Every kid has to attend stations, do skill work and even, gulp, play some games outdoors on the blacktop.
Friday gave us a chance to see a lot more regional talent and get early looks at guys we'll see a lot of down the road including rising sophomore Chris McCullough and rising freshman Isaiah Briscoe.
Hoop Group Elite standouts
Chris McCullough
, PF/SF- Named the top prospect in camp, the NYC native certainly is an impressive looking young kid and a potential five-star talent in the class of 2014. A skilled combo forward who is approaching 6-fcot-9, McCullough is a fluid and effortless athlete who is prepping at the Salisbury (Conn.) School. Lean and long, he can handle the ball, has great hands and a good looking shot. He'll hit the road with Team Scan's 16 and under team for the rest of the summer and already claims offers from St. John's and Syracuse to go with early interest from Arizona, Rutgers, Providence, West Virginia, Virginia and UMass.
Geno Thorpe
, PG- When rankings for the class of 2013 are expanded and updated after the summer, there's a pretty good chance that Thorpe finds his way into them. A native of Pittsburgh who will prep at Blair Academy in New Jersey, he's a point guard with good 6-foot-2 size, length and athleticism to spare. When he's focused and involved, Thorpe is a playmaker off the bounce and transition finisher. The biggest thing for him will be learning to play at full speed at all times and not take off plays. Pitt, Rutgers, Seton Hall and Wisconsin have already offered according to Thorpe and Kansas State, Davidson, Baylor, Penn State and Gonzaga have all indicated they will be recruiting him.
Isaiah Briscoe
, PG- There are surely freshman to be across the country who have as much talent as the 6-foot-2 point guard. But, we doubt there are many at any position on the floor who are as skilled or basketball savvy as Briscoe. You never want to put too many expectations on a kid as young as Briscoe, but it's tough when he's already got offers from DePaul, Rutgers, Seton Hall, Cincinnati, Pitt and Baylor. He'll play his high school ball at Jersey power St. Benedict's.
Jordan Dickerson
, C- Headed to IMG in Florida for a year of prep school, the improvement of the near seven-footer in the last year is quite astounding. He's become comfortable with his size and length, has filled out some and is much more fluid as an athlete. Dickerson isn't yet an overly physical guy, but he can motor up and down the floor contests shots and looks to have developed into a legitimate high major prospect who will have to be discussed when we next discuss ranking the class of 2012.
More Hoop Group notables
Hallice Cooke
, SG/PG- An impressive 6-foot-3 combo guard from Jersey City (N.J.) St. Anthony's, Cooke sure looks the part of a four-star prospect in the class of 2013. Athletic, lengthy and more than adept at creating space for his own offense, Cooke is a dribble drive creator who can also knock home jumpers. His only offers to this point are Rice and Iona to go along with attention from Notre Dame, Seton Hall, Rutgers, Temple and St. Joseph's. More than likely, he'll be a high major priority by summer's end.
Kaison Randolph
, PG- The rising sophomore from Pennington Prep in New already has a big reputation on the East Coast and it's easy to see why. A thin 6-foot-2 guard who is speedy and clever off the dribble, Randolph also wields what looks to be a pretty dangerous jump shot.
Isaiah Miles
, PF- We first saw the skilled face up four man at the L.A. session of the EYBL and he made a strong impression. He did the exact same thing at Hoop Group. A 6-foot-7 faceup guy, Miles has a long frame that will easily carry more weight and a wet jumper all the way out to 21 feet. A-10 and CAA types will be making him a priority as Big East and ACC programs start to sniff around on his recruitment.
Melvin Johnson
, SG- Playing Robin to
Omar Calhoun
's Batman with the Gauchos earlier this spring, we loved the 6-foot-2 off guard's ability to knock home jumpers off the catch of bounce. He was doing it again at Hoop Group and earned overall camp MVP honors along with a spot in the top All-Star game. His high school, Rice, has shut down so he'll head across the river to New Jersey and St. Benedict's in Newark for his senior season. He should be a priority for top level mid-majors and it wouldn't be a surprise to see some high majors in need of a knock down shooter start taking looks.
Kamal Richards
, SF- Judging by Hoop Group Elite, Newark (N.J.) St. Benedict's won't be falling off any time soon with guys like the previously mentioned Briscoe and Johnson. Might as well go ahead and add in Edwards -- a physical lefty wing -- to the core group that will keep things going strong at St. Ben's. Friday he was knocking home jumpers and earned MVP honors in the #2 All-Star game and invite into the top game thanks to his strong performance.
Eric Fanning
, SG/SF- The rising senior from New Jersey has taken his game to a new level this summer. A standout with NJABC, the 6-foot-4 Fanning has added new elements of strength and athleticism to his game that have pushed him to at least the upper mid major level as a prospect. His jumper is workable and he plays with a great motor and good understanding of the game.
Arthur Edwards
, SF- After playing his junior season at Ft. Washington (Md.) National Christian, the bouncy wing is on his way to Oakdale (Conn.) St. Thomas More for his senior season. Not only his he bouncy, Edwards can shoot it from the perimeter and is an under the radar guy with size and length. He claims offers from Towson and Texas Tech and indicated that he feels Florida is becoming more and more involved along with George Mason.