Mater Dei making push for fourth straight state title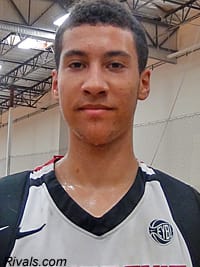 Click
Here
to view this video.
SANTA ANA, Calif. -- A traditional local and national power in every sense, Santa Ana (Calif.) Mater Dei has a lot on the line this post-season. Not only are the Monarchs chasing an undefeated season, they are looking to win their fourth straight title and No. 11 overall for coach Gary McKnight. Friday night, they opened up their 2014 CIF open division state title run with a great defensive effort at home as they beat visiting San Diego (Calif.) St. Augustine 65-38 to move to 32-0 on the season.
While the score was lopsided and the Monarchs played outstanding on the defensive end, it wasn't the prettiest of wins.
The game was often ugly as both teams struggled to make shots, but the result was never in doubt. The nation's No. 3 player in the class of 2014
Stanley Johnson
opened with two quick three-point plays, 2015 four-star shooting guard
Rex Pflueger
's defense got St. Aug's Rivals150 shooting guard, and
San Diego State
signee,
Trey Kell
off to a tough start and then fast rising sophomore big man
M.J. Cage
took control down low.
A 6-foot-9 center, Cage took a pass from Lavette Parker as he streaked down the lane for a huge slam plus the foul and Johnson followed with his second three point play to give Mater Dei a 14-4 opening run in the first four and a half minutes of the first quarter that they never looked back from.
"M.J was really big for us tonight," Johnson told Rivals.com. "When he got that dunk down the lane in the first quarter, it was like it was over."
With the
Arizona
bound five-star Johnson not shooting the ball as well as he had all season and Pflueger -- who added 11 points with an assistant from
Notre Dame
on hand to watch him -- focusing on the defensive end, Cage had a chance to step up and carry his team a bit and responded nicely.
He scored 11 of his 14 points and grabbed seven of his game high 13 rebounds in the first half as Mater Dei took a 33-21 lead into the half.
"It was good because I knew that we came out kind of short. I knew that throughout the game we were eventually going to warm up and start scoring a lot more."
Cage stepping up was just more of him doing what he has been doing all year. Already a four-star prospect, the young big man has great hands, good touch near the rim and runs the floor well. He looks more confident each time out and when he plays like he did in the first half it is easy to see why the son of ex-NBA player Michael Cage has earned scholarship offers from Arizona,
Kentucky
,
UCLA
,
Washington
, Gonzaga and San Diego State.
During the second half, Mater Dei turned up the defensive pressure even more and when Kell fouled out with 4:45 to go in the fourth quarter after scoring just nine points on 4-13 shooting, the floodgates were in the process of opening. Without even the threat of Kell on the offensive end, the bottom dropped out and Mater Dei started making shots to run away and hide.
Up next for Mater Dei is a Tuesday home date with Etiwanda (Calif.) High in the CIF open round of eight. Johnson is looking forward to the lid eventually coming off the basket and an offensive explosion from he and is teammates coming sooner or later and he's hoping it happens next.
"Teams have been trying to make it real ugly," said Johnson. "They are either doubling me and taking the chance on others going off or leaving me alone and shutting everybody else down. We are ready to get hot and break out."

Click
Here
to view this Link.
[rl]