Making the Case: Five-star Vernon Carey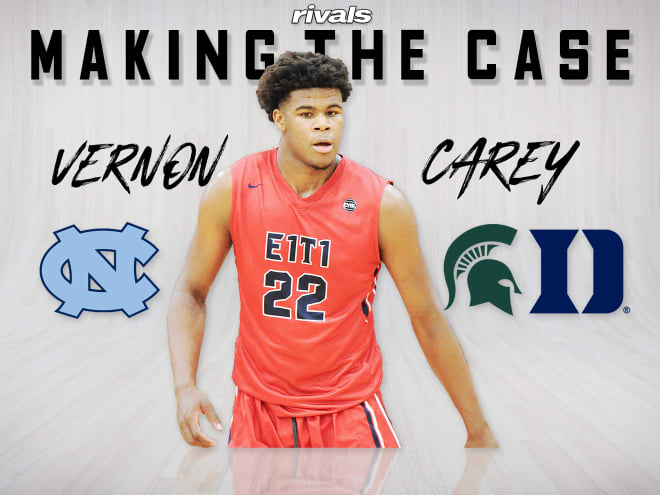 DUKE
Need Factor: 10
Duke needs this one bad. While the Blue Devils' 2019 class pales in comparison to the recent ones that saw the commitments of Jahlil Okafor, Brandon Ingram, Zion Williamson and R.J. Barrett, it could bounce back in a major way with the commitment of Carey. The lefty is a phenomenal 17-foot and in weapon on the offensive end that would fit seamlessly in Coach K's offense. Duke is already rather limited in the frontcourt and with the upcoming departures of Barrett, Williamson and potentially Marques Bolden to depart, none of Carey's finalists need him more than the Blue Devils.
Recruit's Pitch: "Who wouldn't want to play for the greatest coach of all time and the best program of all time? I also have just always told them how well we would do together. Also, I would say, 'We all have dreams and aspirations of going to the NBA so why not go to a school that produces pros regularly.'
"We have been friends for so long but never really got a chance to play together except for USA Basketball. I just feel like we would feed off each other and we would be one of the hardest duos to stop." - Wendell Moore

MICHIGAN STATE
Need Factor: 9
Tom Izzo has earned a reputation as one of the top coaches in America for not just landing pristine big man talent, but also developing them throughout their college careers. In recent years, Adreian Payne, Draymond Green and Jaren Jackson are just a few that have spent time in East Lansing before leaving for the NBA. Izzo is hoping that Carey will be the next in line. The Spartans just enrolled a five-man class this fall and those newcomers, along with Xavier Tillman, are all expected back next season, so the necessity for Carey is lessened some. However, the potential departure of Nick Ward and Kenny Goins' graduation does leave a possible hole along Michigan State's frontline. Isaiah Stewart remains high on the program's board but the fit and need remains. Losing Carey is not the end of the world but would still be a difficult pill to swallow.
Recruit's Pitch: "Our games compliment each other so well. We are both very versatile at the positions that we are it where would be match-up nightmare for other teams across the country. I would be super excited to play with him." - Malik Hall

NORTH CAROLINA
Need Factor: 6
The Tar Heels are not thought to be a major contender for Carey's commitment but they do sit in his final three so there is always a chance that he could surprise and pick North Carolina. Either way, Carey would excel in the Tar Heels' big man reliant offense. Thanks to his ability to lead the fastbreak off of the defensive glass and underrated passing skills, the five-star would flourish in Chapel Hill. However, the Tar Heels are fighting an uphill battle and even if they do miss, they have already answered a major void in the frontcourt with last month's signing of five-star Armando Bacot. Losing Luke Maye down low will hurt but another offseason of development with Sterling Manley and Brandon Huffman plus the addition of Bacot should help. The fit is pristine but the need is not as great as the other two finalists.
Recruit's Pitch: "I haven't talked to him about it much but I would just tell him about all the great bigs that have came through and how me and him could be a Bagley-Carter 2.0 tandem.
"We both could be interchangeable so it would be fun playing with him." - Armando Bacot