Making the case: Devon Dotson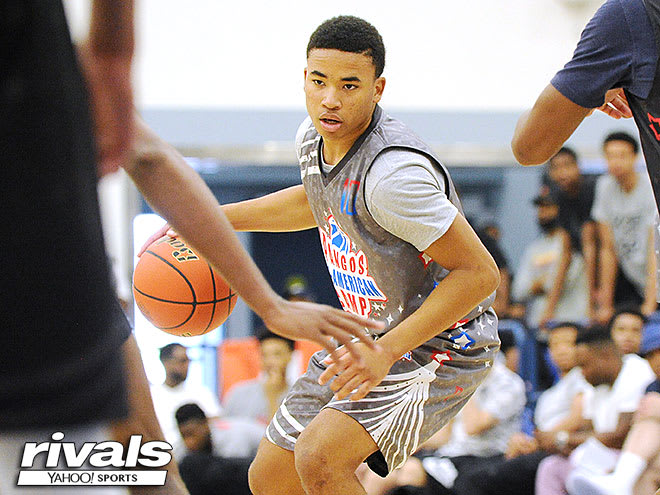 One of the most competitive players in the class of 2018, point guard Devon Dotson had as strong a summer as anybody in the country. He's in a strong position for a move to five-star status and this weekend he's taking his second official visit as he works his way towards a decision.
Dotson took his first official visit to Arizona, but the Wildcats are now out after landing a pair of point guards in Jahvon Quinerly and Brandon Williams. This weekend, he heads to Kansas -- where he visited unofficially last season -- to see what Bill Self and the Jayhawks have to offer.
In June, Dotson released a final eight that included Florida, Maryland, Miami, Ohio State, Southern California and Wake Forest to go along with the Wildcats and Jayhawks. In the last week, UCLA tried to jump in with a scholarship offer.
However, this recruitment appears to be coming down to a three-horse race between Florida, Kansas and Maryland. He hasn't yet set officials for either the Gators or Terrapins, but he's already seen both unofficially.
Today, we bounce around the Rivals.com network to get a feel for Dotson's recruitment as he's seemingly approaching a decision.

THE CASE FOR FLORIDA
"Dotson to Florida makes a lot of sense, but there is still work to be done by the Gators staff.

"Mike White and his staff have recruited Dotson almost from the moment they arrived in Gainesville in the spring of 2015. The goal was always to sign a point guard in this class and Florida -- which graduates starting point guard Chris Chiozza after the season -- is the school that presents the clearest path to a starring role. Something that Florida is definitely selling Dotson and his parents on, and the message is resonating.
"Florida is also selling the Dotsons on the combination of athletics and academics that UF presents. The style of play, proximity to his family (direct flights from Charlotte to Gainesville) and the long relationship with Coach White and assistant coach Darris Nichols are also selling points.
The Gators are in very good shape with Dotson. They have recruited him very hard and he understands it is a program where he can have an impact from day one. He and the family seem extremely comfortable with the coaching staff." -- Russ Wood, InsidetheGators.com/Contributing National Analyst


THE CASE FOR KANSAS
"It's no secret that Dotson has long been a priority for Self and his staff. In fact, it's safe to say that Kansas has invested a significant amount of time recruiting one of the top prospects in the 2018 class.
"There's no denying Dotson would fill a great need at Kansas should he ultimately decide to sign with the Jayhawks.
"After losing Frank Mason to graduation, Kansas will turn to senior Devonte Graham to run the show. At this time, the Jayhawks have a proven backup point guard in Cal transfer Charlie Moore, who will be eligible next season. A year from now, Kansas will have lost Graham, and the possibility exists that Malik Newman, who could run the point on occasion this season, could leave early for the NBA. With Moore as the only true point guard on the roster, landing Dotson is a top priority for this staff.
"With so many unknowns looming next season, there's no doubt Dotson is a top priority and that there will be lots of available playing time." -- Shay Wildeboor, Jayhawkslant.com
THE CASE FOR MARYLAND
"If it wasn't obvious before, it became pretty evident how much of a priority Dotson has become for Maryland in Philly at the Under Armour All-American camp.

"Maryland head coach Mark Turgeon was front and center to watch Dotson the first night in Philly, while all three Terps assistants kept an eye on Dotson throughout the rest of the week. In speaking with Dotson at the Under Armour camp, he let it be known that Terps assistant Kevin Broadus kept in most frequent contact of all college coaches, while AAU teammate Aaron Wiggins and current Terps point guard Anthony Cowan also stayed in his ear about joining them in College Park.

"While the Terps have already added a front court five-star to their 2018 class in Jalen Smith, one area of need continues to be another primary ball handler to go along with Cowan. Turgeon showed last year that the Terps can play with two primary ball handlers on the court at the same time with Cowan splitting time on and off the ball with Melo Trimble. And there should be more than enough minutes to go around in the backcourt when Dotson arrives.

"With one five-star forward already in the fold, two more five-stars in Keldon Johnson and Moses Brown set to visit Maryland in September and the Terps continually being mentioned with five-star Silvio De Sousa, Dotson has the chance to join his buddy Wiggins in what could possibly be Maryland's best recruiting class ever with the opportunity to compete for a national title the second he sets foot on campus." -- Scott Greene, TerrapinSportsReport


THE VERDICT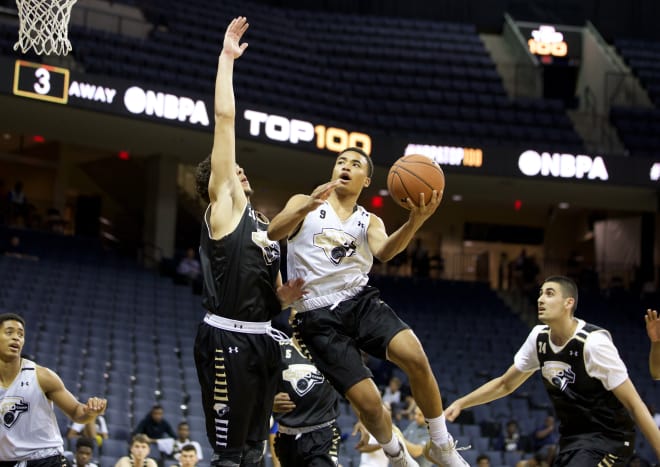 "From the outside looking in, Dotson appears to be nearing a decision. There's no doubt that the battle for him has gotten fierce and I saw firsthand all throughout the summer how badly the coaches at Florida, Kansas and Maryland wanted him because of how often I saw their coaches at his games or camp appearances.
"Right now, he's not set any official visits beyond his visit to Kansas and the Jayhawks won't be stretching anything by selling him on how he could play a similar role to what Mason did last year. They've also been on Dotson tough since early on in his recruitment.
"Then again, the Gators and the Terps have been on him tough as well and they offer plenty. Florida has some immediate playing time as well while the fact that Maryland has one of Dotson's good friends on hand can't be discounted.
"Entering this final leg, Kansas has the slight edge and I would imagine it is hoping for this weekend's visit to go well enough that Dotson never sets any other visits." -- Eric Bossi, Rivals.com, National Basketball Analyst.