Making the case: Armaan Franklin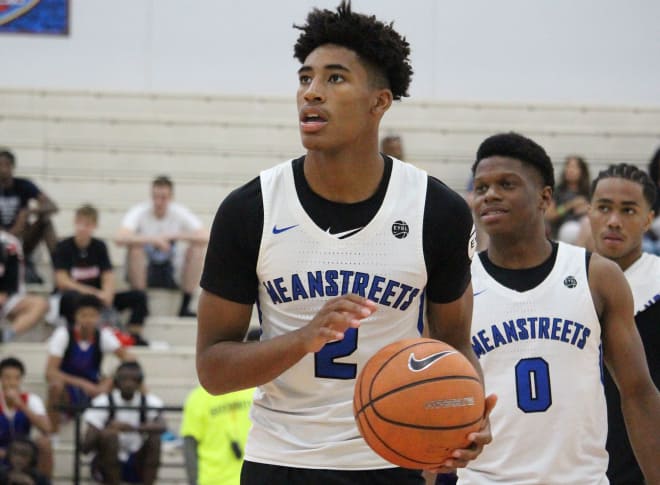 One of the top mid range and off the dribble scorers in the class of 2019, Rivals150 guard Armaan Franklin is expected to make a decision any day now.
Franklin has seen Xavier unofficially and just wrapped up official visits to home state Indiana and Purdue over the last two weekends. In anticipation of his upcoming decision, we take a look at his game, his options and make a prediction.

THE PLAYER
By the standards of today's college game, Franklin is a totally functional and useful guard. What that means is that he's probably more of a natural two guard but he handles the ball well enough to play some at the point and he's big enough that you could play him as a small forward in a small ball lineup.
Franklin is adept at creating his shot off the dribble, has a great frame for finishing around the rim and he is a good pull-up jump. shooter and mid range scorer.
Defensively he has good effort, good awareness and he's likely to be a steady performer who gradually develops into a valuable and consistent upperclassman.

THE CASE FOR INDIANA
Archie Miller has done well by utilizing versatile guards and he's shown that he doesn't mind playing a little smaller in order to play fast and create matchup problems.
Most likely, Romeo Langford will be in and out of Bloomington in a year and that's going to create a huge hole that will need to be plugged. The Hoosiers will have experience back without Langford, but even with a junior Aljami Durham, senior Devonte Green and a sophomore Robert Phinisee in the fold, there will be some minutes to be had.
Though minutes will be there, Franklin would also benefit by not being expected to do too much and having the opportunity to develop into a producer with time.

THE CASE FOR PURDUE
Matt Painter and the Boilermakers already have two nice pieces from the state of Indiana committed in point guard Isaiah Thompson and combo forward Mason Gillis. If Franklin picked them, he'd have a chance to be part of another strong core of local players and part of the type of group that Painter and his staff have been extremely successful with.
Franklin's playing style is a fit for Purdue and he brings just enough of a different element to the floor that he would be able to compete for minutes early. But, similar to Indiana, there won't be pressure to put up huge numbers early.
There also appears to be a strong bond between Franklin and Purdue's staff and they did offer before the Hoosiers if those types of things matter to him.

THE CASE FOR XAVIER
Travis Steele may be in his first year as the head coach at Xavier but given that he was an assistant there prior to getting a promotion, the familiarity with Franklin is in place. Franklin has been on campus and again plays a style that would fit.
Xavier has lots of holes to fill and the chance to play a more primary role the minute he steps on campus is there. And while Xavier may not be in Franklin's home state like his other two finalists, Cincinnati isn't too bad a drive from Indianapolis so his friends and family will have ample opportunity to see him play.

THE PREDICTION
At this point, a pick of Xavier would be a complete surprise even though there was a point in the spring when Franklin appeared to be near committing to Steele. So, let's go ahead and rule them out for the most part.
That leaves Indiana and Purdue battling it out for his services.
Headed into the official visits the past few weekends, Purdue appeared to hold a slight lead. Behind the scenes feedback has been that the Hoosiers have been able to muddy things up a little bit and have made this a close call.
But, we have to make a prediction on this and as of now we still believe that Franklin ends up at Purdue and that a decision is imminent. Should he not make a decision within the next 24-48 hours, though, we may have to reevaluate and if we were putting percentages on it we would probably go 65-35 in favor of Purdue.