Maker jumps to top spot in 2016 Rivals150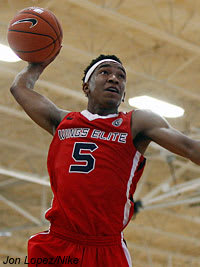 The
class of 2016 Rivals150
continues to look like one that has some long-term star power in it. At the highest level, 7-footer
Thon Maker
has risen to the top of the class, but his grip on the No. 1 spot isn't a particularly tight or secure one just yet.
Maker ascends to top spot
Unlike the class of 2015, where
Ben Simmons
was a relatively easy call for the top spot, picking
Thon Maker
over
Harry Giles
, previous No. 1
Josh Jackson
and
Jayson Tatum
to sit atop the 2016 rankings was a tough decision. Each of those four had a legit claim to the top spot, but Rivals.com has chosen Maker for a variety of reasons.
First of all, you have to take into account the versatility he has to go along with his size. Maker is a true 7-footer who can run and move laterally like a high-level wing player. Not only can Maker move incredibly well for a kid his size, he has plenty of skill and can hurt defenders in a variety of ways.
Maker can take big men off the dribble. He has developed a nice jump hook and a good turnaround jump shot along the baseline. What Maker can also do is start and finish fast breaks. Whether it is with the rebound or a blocked shot, Maker can turn from defense to offense and get from rim to rim at the highest level.
Maker does need to get stronger. He also needs to float in and out of games a little less often and be willing to impose his will more physically. But at the end of the day he is a big-time talent who has gotten early attention at the highest level from programs such as
Arizona
,
Duke
,
Indiana
,
Kansas
,
Kentucky
,
UCLA
and many more.
Moving up a spot to No. 2, Giles is a 6-foot-10 forward from High Point (N.C.) Wesleyan who plays with great energy. Almost fully recovered from last summer's knee injury that cost him his sophomore season, Giles looked very good playing for USA Basketball's gold medal-winning U17 squad. He can run, he has length and he has an offensive game that is rooted in low post play.
After holding the top spot in our previous rankings, Jackson checks in at No. 3. A native of Detroit, the 6-foot-7 swingman is headed to Prolific Prep in California's Napa Valley for his junior season. He is as talented a transition player as there is in high school and has the tools to be a dominant player on both ends of the court.
If a player can be underrated at No. 4 nationally, then that is almost what Tatum is. A tall wing from St. Louis (Mo.) Chaminade, Tatum has a fundamentally strong and sound all-around game. He is also growing into his frame and has added an element of power to his game.
The class of 2016 is really strong when it comes to athletic guards. There are no better all-around backcourt athletes than point guard
Dennis Smith
and shooting guard
Malik Monk
, who come in at No. 5 and No. 6, respectively. A physical 6-foot-2 floor general from North Carolina, Smith has a little bit of young Baron Davis-type flair to his game. A 6-foot-4 off guard from Arkansas, Monk could be compared stylistically to a young Steve Francis.
Checking in at No. 7 is
Edrice Adebayo
. A 6-foot-8 strongman from North Carolina, Adebayo is a big-time athlete who has become a much better offensive player. At No. 8 is Dallas (Texas) Prime Prep wing
Terrance Ferguson
. The 6-foot-6 Ferguson has a pure shooting stroke and is another upper-echelon athlete.
Closing out the top 10 are a pair of point guards with California ties. Technically, Nevada gets to claim
Derryck Thornton
because he attends Findlay Prep on the outskirts of Las Vegas. One of 2016's most competitive players, Thornton plays tough on both sides of the ball. At No. 10,
Lonzo Ball
plays a totally different style of point guard than Thornton. Tall and slender, Ball loves to throw 40- and 50-foot passes and can score. Ball, who is headed to
UCLA
, is also the only player in the national top 10 who has made his college choice.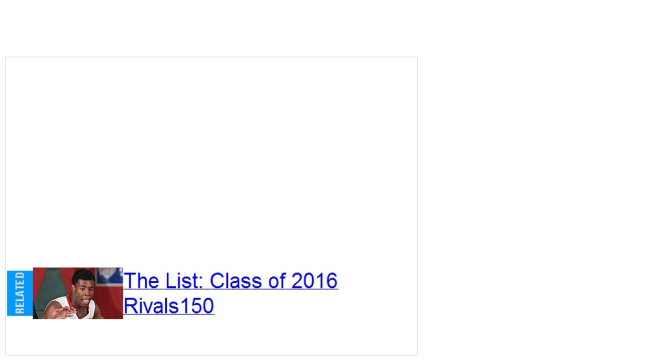 Click
Here
to view this Link.
[rl]