Mailbag: Latest on Turner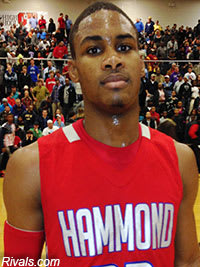 With college basketball season in full swing, Rivals.com basketball recruiting analyst Eric Bossi
dives into his mailbag.
Turner
"Is there anything new with Myles Turner? Has he set up any other
visits?"
-- Brandon M., Oklahoma City (via email)
I guess you could say that there is and there isn't anything new on the nation's
the top unsigned player in the country and will likely be the only player at
April's McDonald's All-American game who hasn't made his college choice. So,
what's the hold up?
I don't know that I would say that there is a hold up. Turner has always said
that he would take his time with his recruitment. He visited
big man's high school season just finished and he has three visits left that he
more consideration. Turner and his family haven't been giving out many hints
either.
However, the grapevine is active with chatter regarding where Turner may be
leaning towards. For most of the winter, the chatter has focused on the
around just outside that group. In the last couple of weeks, SMU seems to have
replaced Oklahoma State in getting the most talk. Texas gets a lot of run
because of proximity to home and a lineup that has a nice spot for him in the
frontcourt -- especially with Texas showing that they can play Jonathan Holmes as
a three. Kansas has obviously become well known for developing big men but
decides previous to Embiid making his intentions clear (even if only privately
to the Kansas staff) then it could be tough for the Jayhawks.
I expect that we will see visits set up soon. For now though, based on what I've
been hearing, Texas looks to be in the best position.
"Have you seen any currently unranked players that you feel could make a
strong push for the final Rivals150? When will those rankings be released?"
-- Carter, Los Angeles (via email)
I'll start with the second question. I expect that we will roll out a final
ranking of the class of 2014 sometime around late April. Last year we did
rankings previous to gathering intel and observing the Nike Hoops Summit and
Jordan Brand Classic and there are a few big changes that would have happened
had we waited. For instance, Embiid would have been a lot higher. So, this
year we won't update the rankings until after all of the main All-Star games
have been played. The rankings in the classes of 2015 and 2016 will get updates
in March before the travel ball season kicks in.
Back to the first part of your question, it seems that every spring there are
about 10-12 players that we would like to find room for in the Rivals150 but
finding that many players to move out is tough. The same thing will happen this
year. In doing preliminary lists it's more about figuring out who drops out than
identifying who we want to move into the rankings. Right now, there are three
In fact, all three of those guys stand out as players who probably need to enter
the rankings in four-star territory. Graham is the best available point guard in
the country and has great size and playmaking ability. Harrell is a tall and
lanky wing with a high level of skill while Stewart is as big a steal as there
is in the class of 2014 because of his all-around game.
"What trend on the court would you like to see return that's dwindled as
of late? Could be anything as little as headbands, or tapping backboards on
layups to something much more relevant to the actual game... For me, it's guards
with post games. I understand some of that has gone away as more and more teams
use zone defenses, but give me another Nick Van Exel, Mark Jackson or even
Quentin Richardson (before he got older and just stood behind the arc and
hoisted)."
-- Danny, Skokie, Ill. (via email)
From the not so serious category I am hoping that we continue to see a trend
away from mohawks. I've always been a fan of the post dunk backboard slap with
one hand but some refs are a bit testy about that one.
I am in agreement with you about guards who have post games. However, I have a
little bit of a twist on it. I think we need coaches who are willing to post up
guards more than we need guards who can post up. In the NBA, a guard who can
post is a very valuable and quite often used weapon. For some reason, though,
college and high school coaches just don't seem to like to post their guards or
even their wings for that matter. I would really love to see more inverting of
the offense by coaches to take advantage. Seems like we see a lot of small three
guard lineups these days and coaches get away with them because those little
guys aren't being forced to guard enough in the post when they give up few
inches in size.
"Do you see Eric Davis as a true point guard in college? Do you still
believe he is leaning towards leaving the state?"
-- @umwolfpack87 (via Twitter)
We actually changed Davis from a point guard to a shooting guard in our database
within the last week. Really, he's a scoring combo guard meaning that he has the
game of a natural two but the size of a point guard. He handles well enough to
play the point but he doesn't seem all that comfortable in being the guy who
initiates and orchestrates a team's offense each trip up the floor. Davis'
strength is as a pure scorer so he's naturally more comfortable playing off the
ball. Can he develop into more of a full time one? Sure, if he improves his
decision making and playmaking. But, the way I see it why try and fit a square
peg into a round hole. Put him in positions to score first and let him develop
his playmaking over time. As for picking a school, he does strike me as a kid
who is willing to look outside of not only the state of Michigan but the Big Ten
conference.
Point guard drought
"Are the next couple classes better stocked with elite PGs or is the
cupboard still pretty bare? PG seems to be light."
-- @acieearl (via Twitter)
Everything is relative and seems to go in cycles. Right now, it would appear
that we are in a cycle of point guard play that doesn't feature many elite floor
generals. There are certainly many very good floor generals but the high school
ranks aren't currently overflowing with guys that you watch and say to yourself
"he looks like he's going to be a great pro some day."
In 2015, the point guard who currently rank the highest like
hasn't yet shown quite the speed and athleticism you would like to see out of a
Bottom line, if you can play the point in 2015 you have a lot of room to
impress. It should be noted, though, that the West seems to have a pretty good
the already mentioned Dorsey and Simon.
Early on, 2016 is looking to be quite similar. Some of the guys with the most
point guards while some of the more traditional point guards don't have either
the size or athleticism you would ideally like to see in an elite point guard
prospect. But, it is obviously quite early with that class.
"The class of 2014 is pretty much picked over. Who are the top remaining
point guard prospects on the board?"
-- Joshua, Dallas (via email)
native has outstanding size, good speed and good athleticism to go along with
his steady decision-making. However, Appalachian State's refusal to release him
from the letter of intent he signed during the fall of 2012 means that he is
likely going to be ineligible his freshman year. That creates problems for those
seeking immediate help but he is a legitimate high major prospect.
the ball. But, he is also relatively slight and a sub six-footer.
six-footer who has gotten a lot of attention is prep schooler
with him of late.

[rl]