Luguentz Dort discusses his final six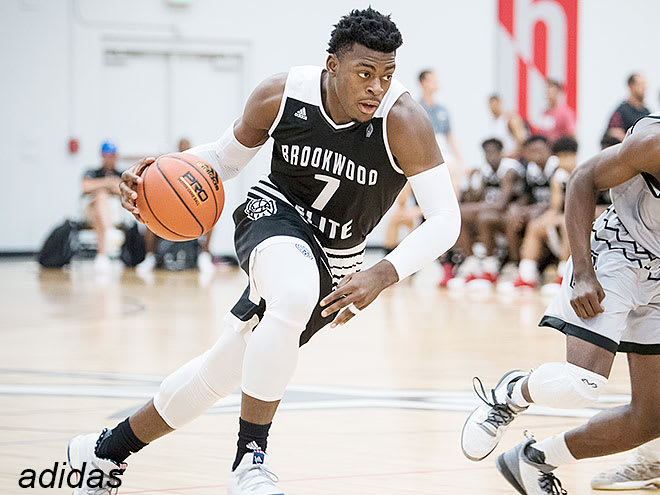 HOUSTON -- Another step was taken towards a college commitment on Sunday evening as Luguentz Dort narrowed his college list to a group of six. A physically mature and versatile scoring guard, Dort is down to a group consisting of Indiana, Michigan State, Miami, Arizona State, Oregon and Baylor.

A 6-foot-4 prospect within the top-50 of his 2018 class' rankings, Dort discussed the reason for why he narrowed it down to this specific group. "I just really like how they want me to play for them and they really want me to play the point guard position, which would be good for me," he said.
Dort spoke further on each of his finalists.
Baylor: "Scott Drew gave me my first offer. They have been with me for a long time.
"I really like the way they play with the pick and roll with their guards. I really like their system."
Oregon: "They have a really good Canadian connection. They play fast which is something that I really like."
Miami: "It is another system that I like with the pick-and-roll. They have a lot of good players that like to play fast.
"Bruce Brown is kind of like me and is doing great over there. I just feel like I have a chance if I go there."
Indiana: "I just really like the coaching staff and the way that they are recruiting me right now. I haven't been there and haven't watched them play but I have a really good relationship with the coaches."
Michigan State: "It is a great program. We have all heard about that. I like the way that they play together. Tom Izzo just knows how to make pros."
Arizona State: "Bobby Hurley is one of the great point guards that played the game. I feel like if I were to go there, I would really learn a lot about the point guard position."

WHATS NEXT?
Dort will finish out his final year of high school basketball at Calusa Prep this winter.
He spoke on the final stages of his recruitment. "I don't have any visits set yet but I will probably start them in August," he said. "I will probably commit and sign during the early period in November."

RIVALS' REACTION
Dort is the type of versatile guard that has come to excel in recent years thanks to his ability to score, playmake and defend various spots on the perimeter.
Each program within his final six has a fine chance of landing his commitment but thanks to the time that they have invested in the recruitment of the Brookwood Elite prospect, Baylor and Oregon may have a leg up on the rest of their competitors.