LoVett takes game to new level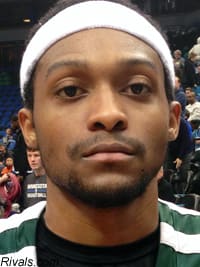 Currently ranked as the No. 91 player in the class of 2015, LoVett will be making a move up in the final rankings and many things have come together to make him one of the most sought-after players in the country. After developing a reputation for high scoring and flashy play in California during his first three years of high school, his move to Chicago has allowed him to thrive.
While his flashy ball handling, ability to score in a hurry and passing ability make the southpaw a fan favorite, make no mistake -- he has changed his approach. LoVett is competing at a new level and playing with a more team-first focus and it has made a world of difference.
"Each and every year I have to step it up," LoVett said. "That's something that I've added to my game is being much more competitive. I feel that is an element that will make me much more valuable as a ball player.
"Regardless of whatever I do out there, I am just trying to help my team. If I get hot, then I just try to keep it going. I know when my shot is on and off and I just try to go with the flow of the game."
With available point guards who look like they can legitimately help out at the high-major level in short supply in the class of 2015, college coaches have started to fall in love with what LoVett can do.
"They feel like I can come in and help their team and be just who I am," said LoVett of what he's hearing from college coaches. "Ability-wise for what I can't do, they haven't really said anything. I think I can be more of a communicator constantly talking to my teammates on the court. That's something I can improve more."
Being in Illinois, LoVett says that he has felt the love from the Illini and their fanbase.
"They've been on me real tough," said LoVett. "The fans really want me to come to Illinois, so it has been real fun and cool to watch. I'm just trying to take this day by day and really cherish this moment."
LoVett says that he wants to finish out the season strong and see where he stands. He hasn't yet set any visits and remains open to the process.
"I haven't really got anything in mind or set yet," said LoVett. "I'm really open-minded with visiting any school that is interested in me."