Looking ahead to Grind Sessions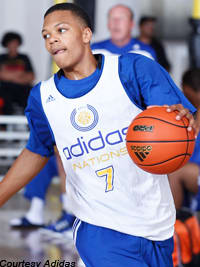 On Friday, Under Armour will host the first of its 2012 Grind Sessions at Washington (D.C.) Coolidge High School. Rather than running a national camp as it did last year with the Best of the Best camp, Under Armour has instead broken up the talent pool to attend regional camps in D.C., Houston, Atlanta, Los Angeles and New York between now and September. With a focus on skills and competition, the roster for the D.C. session is stacked.
Here are five questions for which Rivals.com national basketball analyst Eric Bossi will be searching for answers.
1. Has Britt bounced back?
When we saw
Nate Britt
play early in the 2011-12 high school season, the
North Carolina
-bound junior point guard looked terrific. He pushed the tempo, shot the ball well, found teammates and put pressure on his opponents on both ends of the floor. However, he dealt with injuries after that early December performance and didn't play up to his usual standards during subsequent viewings with his Washington (D.C.) Gonzaga squad. Currently ranked No. 11 overall in the 2013 Rivals150, we want to see how a healthy (hopefully) Britt looks.
2. Is Carr underrated?
Few players in high school basketball are more electric with the ball in their hands than the diminutive Baltimore (Md.) Patterson point guard
Aquille Carr
. The 5-foot-8 junior is a mixtape legend and four-star prospect who is among the most entertaining players to hit the high school floor in years. However, the Grind Session drills and skills sessions should give us an interesting look into his game. Is the
Seton Hall
commitment just a guy who thrives in an up-and-down environment that is catered to him having the ball and making plays? Or, have we all been underrating Carr's overall skill and feel for the game from the point guard spot?
3. How has Dwayne Morgan progressed
Last fall, 2014 Baltimore (Md.) City College wing
Dwayne Morgan
burst onto the scene at the USA Basketball mini-camp. A long 6-7 wing with skills and athleticism, Morgan came from seemingly nowhere to look like a surefire four-star prospect with potential to move into the five-star range. High-major programs up and down the East Coast have shown interest, but there hasn't been a lot of news to come out about his recruitment and how he performed as a sophomore. As long as his performance in Colorado Springs wasn't an aberration, he could be one of the best players in the country that nobody is talking about. Catching up and watching with him will be a priority.
4. How will the Martin twins perform?

Click
Here
to view this Link.
In the class of 2014, twins from Mocksville (N.C.) Davie have been getting a lot of attention from college programs.
Cody Martin
and
Caleb Martin
are 6-foot-5 twin wings who already carry a big reputation in their home state. So far, they've already gotten offers from
N.C. State
,
Virginia Tech
and
Wake Forest
while several other ACC and SEC programs have been in to take a peek at them. Long and good athletes, the duo is said to be skilled and play hard. To date, the Rivals.com national team has not been able to get a first-hand look at them but that will change on Friday at the Grind Session.
5. Talk of the Towns?
In the class of 2015, there aren't many players in the country, let alone on the East Coast, who are generating more buzz than
Karl Towns
. A skilled 6-10 center at St. Joseph (N.J.) Metuchen, he put up good numbers as a freshman and has coaches from high-major programs salivating. He's big, but he's also young and seeing how he performs against older and more experienced players will be invaluable at this stage because his skill is there. A bit of a face-up big man, Towns can stretch defenses to the three-point line, has tremendous size and good hands.

Click
Here
to view this Link.
[rl]