Long, Jones shine in holiday events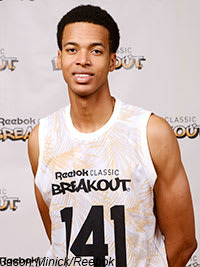 DUNCANVILLE, Texas -- Held on the campus of Duncanville (Texas) High, the Thanksgiving Hoopfest has become a traditional holiday stop for Rivals.com. On Friday, the state of Oklahoma raided the Dallas metro area as Mustang and Putnam City West came away with big wins. Rivals150 junior Jakolby Long was one of many coming up with big efforts.
Mustang outduels DeSoto
When Friday's matchups for the Thanksgiving Hoopfest were first released, the scheduled battle between Mustang (Okla.) High and DeSoto (Texas) High jumped off the page. Coming off a big class Final Four appearance in 2014, DeSoto is a traditional Lone Star State power while Mustang has a tough roster led by a talented group of juniors.
The game didn't disappoint in the least as Mustang pulled out a hard-fought 61-60 win, thanks in large part to the play of the No. 126 player in the class of 2016, 6-foot-4 guard
Jakolby Long
.
The son of Mustang coach Terry Long, Long showed little rust as he took the floor for his first game of the season and scored 16 points to lead his team to victory shortly after finishing up his season playing wide receiver for Mustang's football team.
Long ran the point, played off the wing and also spent some time in the paint. Wherever he was, Long showed strength and toughness. A high-energy player with a great feel for the game, he got his team off to a quick start with the three-ball before making plays as they were needed down the stretch.
Though he isn't yet in basketball shape, Long fought through fatigue and led his team to victory and certainly validated his lofty status.
"We have new players and everybody has jitters," Long said. "I wanted to calm everybody down and we wanted to get the win, so that was good."
Long was far from a one man show, though, and in particular 6-foot-4 junior wing
Curtis Haywood
caught Rivals.com's attention. We first got a look at the three-star prospect earlier in November at the Elite 14 and he didn't disappoint in a second viewing. A long and active athlete, Haywood scored 13 points and always seemed to come up with a big rebound or a big bucket when his team needed it most.
Haywood said that he doesn't have any offers yet, but that should be changing soon. In the meantime, Wichita State, Tulsa, Oklahoma, Missouri State and
Houston
have all reached out to show interest.
Jones puts himself on map
Rivals.com also had a chance to sneak over to Wilkerson-Greines Activity Center in Ft. Worth to check out the final evening game of the Coca-Cola Thanksgiving Shootout. The idea was to catch Plano (Texas) West's loaded lineup featuring
Texas A&M
-bound four-star seniors
Tyler Davis
and
D.J. Hogg
along with four-star
Ohio State
pledge
Mickey Mitchell
. We'll get to that trio and the victorious Plano West in a bit more detail further in this report, but now we want to focus on Irving (Texas) MacArthur junior
Andrew Jones
.
A 6-foot-3 combo guard, Jones put on an impressive show of his own as he willed his team into the game and almost helped to pull the big upset with a 22-point outing.
Long and slender, Jones is a very good shooter from deep and he has range to go beyond the three-point line. He handles well with either hand and does a good job of navigating the high ball screen. If the big man hedges, he attacks his outside leg and makes a hard cut to the basket and if his defender recovers or fights through the screen, he is a very alert passer.
Jones still needs to add strength and he could probably stand to be a bit more aggressive in stretches, but the tools to develop into a very nice prospect are all there. For now, we will start Jones off as a three-star prospect and peg him as a guy who could end up anywhere from the upper-mid to high-major level.
Basketball runs in the Jones family. His older sister Alexis -- who is currently sitting out a transfer year at
Baylor
-- was a McDonald's All-American in 2012. Per his father David, Jones has early offers from Tulsa,
Richmond
, Weber State and UT-Arlington to go along with interest from
Texas Tech
,
Miami
,
TCU
and Oklahoma.


In the open, we mentioned the play of two Oklahoma teams, so it is time to get to Oklahoma City (Okla.) Putnam City West. Led by unsigned senior
Tyson JollyClick One of the more talked about moves of the fall was the one made by top five senior
Skal LabissiereClick More Friday notablesHere to view this Link.. The 6-foot-11 big man has committed to
KentuckyClick More Friday notablesHere to view this Link. and attends Memphis (Tenn.) Lasaunne, but because he was ruled ineligible to play his senior season due to transfer, his guardian Gerald Hamilton created a club team called Reach Your Dreams for Labissiere to travel and play on. At least on Friday, RYD was living a bit of a nightmare as Conrad (Texas) High blew them out 54-25. Labissiere had his moments and was clearly the most talented player on the floor while racking up 16 points, 18 rebounds and eight blocked shots. However, because his team was never really competitive, he was virtually playing one on five and he's having a lot asked of him.Here
to view this Link., PC West raced out to a huge early lead and never looked back against defending state champion Dallas (Texas) Kimball. It was our second time this month seeing Jolly (he's another who impressed at the Elite 14 in early November) and he reinforced our thought that he is one of the better remaining wings in the class of 2015. Athletic, versatile and most of all tough, the three-star Jolly is a winner who should be pretty heavily recruited during the winter.

Getting back to Plano West, it was an interesting mix for them in a their win over Irving MacArthur. Their highest ranked prospect, Tyler Davis (No. 28 in 2015) was easily their best player. The 6-foot-10 center brought it in the low post on both ends of the floor. He played a true back-to-the-basket game and finished with 23 points and double digit rebounds before fouling out late in the game.

Class of 2016 big man
Marques BoldenClick Headed to Texas A&M with Davis is Hogg, who ranks No. 33 in the class of 2015. Standing 6-foot-7, Hogg was relatively passive and happy to play through Davis for most of the game. But, when he needed to, Hogg stepped up and drained some pretty looking jumpers. Hogg's three-point stroke is as good as there is in the senior class and it is something that could eventually translate to the highest level if he can turn up his aggression and be a bit more consistent on the glass. Finally, still recovering from a series of injuries, the Ohio State-bound Mitchell (No. 92 in 2015) didn't score a point while battling foul trouble.Here
to view this Link. remains a work in progress. However, the 6-foot-10 big man from DeSoto (Texas) High who ranks No. 27 in his class is a work in progress with significant tools and upside. First there is his raw size. Bolden is no string bean insider who needs to add weight. He has a solid base and the type of frame that a college strength coach is going to love working with. He runs the floor very well, has long arms and good agility overall. Most surprising is how quickly he gets off the floor and how soft his hands are. A true back to the basket guy, he loves to operate on either block and has a great go to move in a jump hook that he much prefers to shoot with his non dominant left hand. His instinct is almost always to go to the rim and he runs hard from rim to rim. Bolden still commits some silly fouls and could be more demanding in calling for the ball but there was a lot to like in the way he played Saturday. Before it is all said and done, Bolden is capable of making a strong push for five-star status.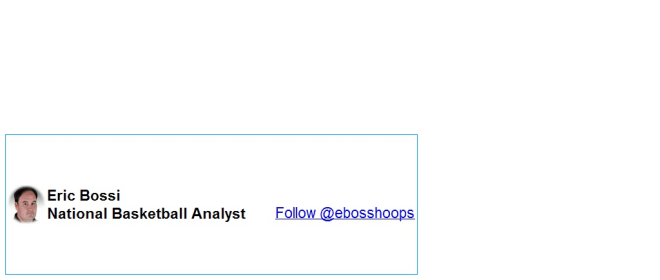 Click
Here
to view this Link.