Lone Star State product Quion Williams is a rising star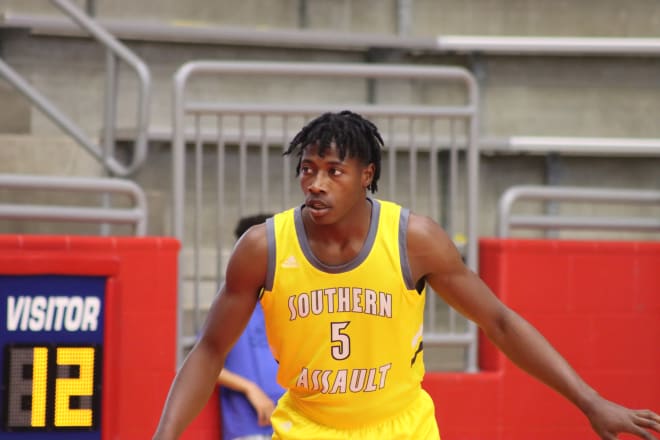 Texas was one of the hot spots for college coaches this past weekend as the second live period tipped off because the Lone Star State is loaded with talent right now. One of the breakout stars of the weekend was three-star small forward Quion Williams, who quietly had a really nice start to the travel season with Southern Assault.
The athletic 6-foot-5 wing collected scholarship offers from Georgia, Kansas State, Ole Miss and Oklahoma State since the weekend. Prior to the live periods, he held offers from Houston, TCU, Texas A&M, Texas Tech and several mid-major programs.
Since the dead period ended at the start of June, Williams visited Houston, Oklahoma State and TCU. He plans to visit Texas A&M this week.
*****
MORE: The Shaw Awards for June Live Period, Session 2
2021 Rankings: Rivals150 | Team | Position
2022 Rankings: Rivals150 | Team | Position
2023 Rankings: Top 30
*****
IN HIS OWN WORDS 
Georgia: "(Assistant) coach (Wade) Mason called and offered me. He was telling me how he likes underrated guards and how most of the guards he's coached that went to the League were underrated guys like me."
Houston: "I like both coach Sampsons (head coach Kelvin and assistant coach Kellen) down there. They were recruiting me early and have stayed on me. I like the way they were saying I would play and how I would fit into their program."
Oklahoma State: "I loved Oklahoma State. Coach Mike (Boynton) is a great dude and was a straight up with me. I know Isaac Likekele, and he's been telling me how he just lets them play."
Ole Miss: "They just called and offered. (Assistant) coach (Ronnie) Hamilton hit me on Saturday and offered, and then came and watched me on Sunday and said I had a great game."
TCU: "I like the coaches. I liked the campus. It was big and they have a lot of fans."
Texas A&M: "Since they offered, they stayed on me. I went there for a visit for my freshman year, and he was telling us how he brought all his coaches and wants to build a great culture."
Texas Tech: "I like (assistant) coach (Corey) Williams a lot. He just came over from Arkansas. I like the way they coach up there."
RIVALS' REACTION 
Williams doesn't plan to commit any time soon as he's still waiting to see which schools recruit him throughout the summer. Relationships will play the biggest role in his decision. At the moment, he said Houston and Saint Louis have done the best job recruiting him. Kelvin Sampson and assistant Kellen Sampson built a strong relationship early on and impressed him on his recent visit. Saint Louis assistant Phil Forte, who came up through the same travel program as Williams, has played a big part in getting the Billikens in the mix.