Local programs pushing for Texas guard Maxey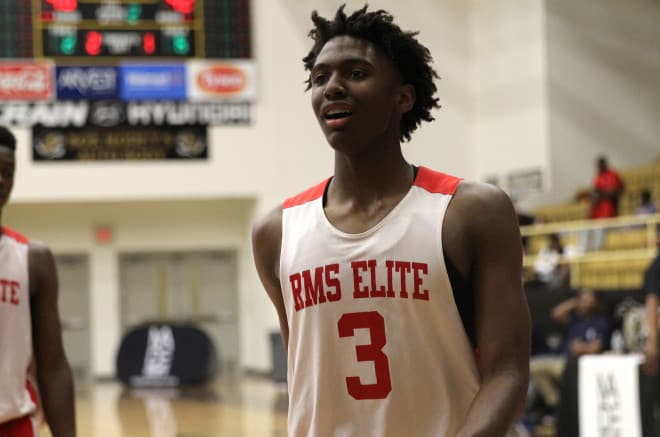 HAMPTON, Va. – Tyrese Maxey, a 2019 guard and Texas native, had a coming out party this past weekend, solidifying his case as a top-25 sophomore nationally.
Maxey converted more than 42 percent of his three-point attempts during the first session of the Nike EYBL, which equated to a solid 13 points per game.
Heavy hitters are already involved in Maxey's college recruitment.
"Texas, Oklahoma, Oklahoma State, Baylor, California, Oregon and SMU," Maxey said.
IN HIS OWN WORDS
Texas: "It is cool. I talked to them last time that coach (Shaka) Smart came up to my school. He just tells me to keep working on my game, my jump shot and also my mid-range. He just tells me keep competing, keep playing hard and just that he likes my scoring."
Oklahoma: "They let you play. Just be you. If you want to get buckets and want to shoot it, they'll let you be you."
Baylor: "Scott Drew also tells me that he lets his point guards run his offense. Ball screens them and lets them go to work after that."
Oregon: "They play together. It isn't about just one man but everyone scores. They spread the ball and spread the scoring."
WHAT'S NEXT?
Maxey will finish his junior year on the Nike circuit playing a year up with the RM5 Elite travel program, the same team boasting other top talents as De'Vion Harmon and Gerald Liddell. No college decision is expected any time soon, though those within the Big 12 Conference will soon make him a priority recruit if they have not already.
RIVALS' REACTION
Maxey is the type of guard that can take over a game. While he is more of a scorer than a playmaker, his confidence and the range on his jumper are really impressive, especially given his age. Look for the local schools, Oklahoma, Oklahoma State, Baylor and Texas, to remain heavily invested in his recruitment.