Les Schwab: Michael Porter makes play for top spot in 2017
HILLSBORO, Ore. -- The No. 2 player in the class of 2017, small forward Michael Porter, Jr. wants to be No. 1. Thursday night, he played like the best player in America as he continued to build his case for the top spot.
Class of 2018's No. 1 player Marvin Bagley teamed up with four-star senior Cody Riley to wreck shop on the interior and many others stood out on a jam packed Thursday night at the Les Schwab Invitational.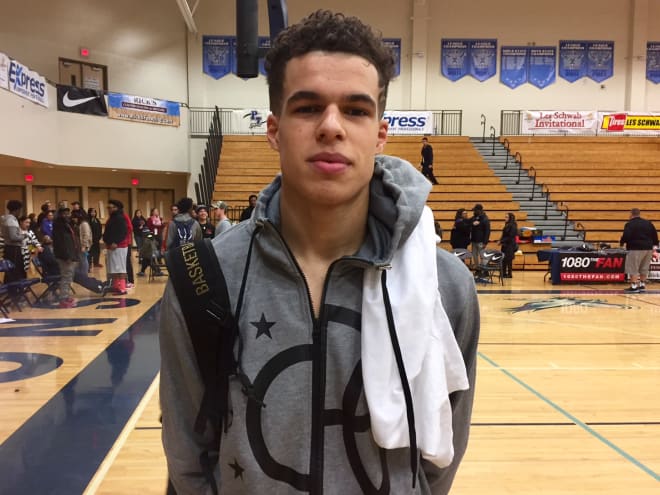 The current No. 1 player in 2017, Arizona-bound center DeAndre Ayton, is one of No. 2 Michael Porter, Jr.'s best friends. However, the 6-foot-9 small forward at Seattle (Wash.) Nathan Hale who is committed to Washington feels that he has a legitimate claim to the No. 1 spot.
Thursday night, Porter backed up that feeling during a monster effort that led to Nathan Hale's 87-65 thrashing of their hometown rival Seattle (Wash.) Garfield that moved them into Friday night's finals of the Les Schwab Invitational against Chatsworth (Calif.) Sierra Canyon.

Averaging 33.5 points, 16 rebounds and 5.5 assists in 27 minutes per game during his first two outings, Porter outdid himself with a dominant 34-point (14-22 FG, 3-7 3PT), 20-rebound and five-assist effort in just 22 minutes of action.
A jumbo wing who has bulked up to 220 pounds, Porter crossed up defenders before pulling up for deep threes in transition, pounded the glass and played above the rim whenever needed.
In front of future head coach Lorenzo Romar and two assistant coaches, Porter made a very strong case for elevation to the No. 1 spot. In fact, if we were to redo the 2017 rankings today, Porter would overtake Ayton based off his play from USA Basketball and through the early portion of the 2016-17 season.
After playing his first three years of high school at Columbia (Mo.) Father Tolton, Porter is thriving in Seattle.
"The move to Seattle has been great," Porter said. "I'm out here with my family and the guys at Washington. I'm getting close with all the players too, so that's good."
BAGLEY AND RILEY GO OFF FOR SIERRA CANYON
Waiting for Nathan Hale and Porter in the finals of the Les Schwab is Chatsworth (Calf.) Sierra Canyon. Thursday night, they rode their two formidable inside horses -- 2018's No. 1 player Marvin Bagley III and UCLA-bound four-star senior Cody Riley -- to an entertaining 85-81 win over Washington (D.C.) Gonzaga.
All night long, Sierra Canyon pounded the ball inside and the 6-foot-10 Bagley and 6-foot-8 Riley, and the combo responded with 62 points and 21 rebounds while going 26-for-35 from the field.
Riley was actually the high scorer, going for 32 points while collecting 14 rebounds and blocking four shots. Physically, Riley looks like a college tight end and he has the type of hands you would want from a high-level pass catcher. He snagged everything, made strong post moves and played the game from inside out rather than settling for too many jumpers. When he plays like this, the No. 34 ranked player in the senior class looks like a guy who can make an instant impact at UCLA.
The top player in the junior class -- and perhaps regardless of class -- Bagley was good for 30 points and seven rebounds of his own. A big time athlete who is really starting to fill out, Bagley possesses superior quickness and agility around the lane and he's crafty in how he sets up defenders. Once he catches near the rim, it's over, and he finished 14-for-16 from the floor.
Current No. 2 Zion Williamson is charging hard, but Bagley still has a pretty secure grip on the top spot. Bagley said that he hasn't made any recent visits and that he probably won't take any until after the season. He also said that he'll probably wait until after the summer to get really serious about his recruitment. Oregon had an assistant watching while Arizona, Arizona State, Duke, Kentucky and UCLA round out his top six.

HEPA OUT WITH ANKLE INJURY, MORE THURSDAY NOTES
We were looking forward to seeing four-star junior power forward Kamaka Hepa. Unfortunately, the No. 32 ranked player in the class of 2018 was out with a high ankle sprain and unable to play in Portland (Ore.) Jefferson's win over Portland (Ore.) Grant. Hepa told Rivals.com that he has taken recent visits to see games at Oregon and Gonzaga. Hepa said that Gonzaga and the entire Pac-12 is coming at him hard while others like Oklahoma and Texas continue to chase.
Also out with injury (left wrist), four-star Washington bound point guard Daejon Davis' absence was felt by Seattle Garfield. They never seemed to get into the flow against Nathan Hale and while four-star Washington commit Jaylen Nowell scored 15 points, he had to work for them. As did four-star junior J'Raan Brooks who finished with 11 points and seven rebounds. However, a bright spot for Garfield was the play of 6-foot-5 Jamon Kemp. The son of former Seattle Sonics star Shawn Kemp, Jamon found the bottom of the net with jumpers and showcased good length and athleticism. He's certainly one to keep an eye on.
Nathan Hale isn't a one man show and Michael Porter's four-star junior brother Jontay Porter and four-star sophomore wing P.J. Fuller both went to work. Also committed to Washington, the 6-foot-9 Porter showed low post skill, toughness and soft hands in a 10-point, 16-rebound and four-block night.
Gonzaga took a loss to Sierra Canyon, but they were formidable foes and helped to create maybe the best game Rivals.com has been in attendance for all winter. Miami-bound four-star senior point guard Chris Lykes electrified the crowd with his ball-handling and toughness as a scorer off the bounce while racking up 24 points and three assists. Also outstanding was four-star junior combo guard Prentiss Hubb, who hit jumpers, attacked the rim and set up others while scoring 22 points and dishing out five assists of his own. Gonzaga also got big contributions from senior power forward Eddie Scott, who looks like a very nice pickup for Penn, and freshman Terrance Williams. Williams didn't put up big numbers, but his willingness to battle with Bagley and Riley was impressive and he didn't look scared of the moment in a big game. Scott finished with 18 points and five rebounds.

Portland State looks to have found a tough competitor in 5-foot-8 point guard Elijah Gonzalez. The senior at Clackamas (Ore.) High had 38 points, five assists and four rebounds in a consolation game win over West Linn (Ore.) High. He's not big, but he put tremendous pressure on defenders with his quickness and he is wired to attack at all times.

We would expect more good West Coast mid-majors to become involved with junior Kelton Samore. A skilled and mobile four man who can stretch the floor and makes excellent passes out of the high post, the three-star was good for 14 points, 10 rebounds and five assists. Things should start heating up for him soon.
Finally, Arizona State-bound point guard Remy Martin didn't torch the nets, but he played outstanding for Sierra Canyon. The Rivals150 floor general pushed the tempo, played tough defense and most importantly fed Bagley and Riley over and over again. Martin finished with 11 points, 11 assists and five rebounds.