Options aplenty for four-star junior Anthony Leal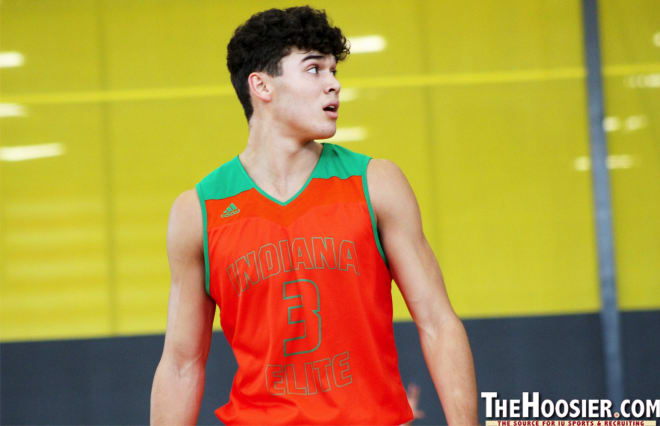 Four-star junior guard Anthony Leal has been active on the unofficial visit trail. The No. 79 ranked player in the class of 2020, he's already see Arizona State, Indiana, Iowa, Marquette, Maryland, Michigan, Ohio State, Purdue, Wisconsin and Xavier.
Early on in his high school season, the college coaches have been returning the favor. Archie Miller made the short drive from Indiana's campus over to see him last Friday as did an assistant from Xavier. He's also had Stanford stop by to check him out, and the four-star shooting guard said other schools have indicated they will be in soon.
IN HIS OWN WORDS
Leal talked about his interest in some of the schools recruiting him.
Indiana: "(Archie Miller) has done a really good job recruiting in the state and had a good first year last year and starting up this year. They haven't offered yet. They just keep telling me to keep developing and getting better. I wouldn't say it's a 'offer or go away' kind of thing. I'm just enjoying the process and seeing where everything falls."
Michigan: "I went up there for a football game. They are doing great. They picked up right where they left off last year. They are a top five team in the country and playing really well."
Ohio State: "Coach (Chris) Holtmann has done a great job there. They won the Big 10 and have started off well this season."
Stanford: "It's both academics and basketball with them. They are emphasizing going there to be a basketball player and getting a great education, and not just one part of it."
Xavier: "I think Coach (Travis) Steele picked up really well from where Coach (Chris) Mack left off. What they are doing over there is really special with how they develop players, specifically perimeter players like myself."
RIVALS' REACTION, WHAT'S NEXT?
While recruiting is always there, Leal is shifting his energy a bit. His main focus is his high school season for the next few months.

When the season is over, he will see where his recruitment stands and move forward from there. It's clear from talking to him that he really likes what Archie Miller is building just down the road in Bloomington and that a Hoosier offer could be a game-changer in his recruitment. Xavier has done a great job with him going back to when Chris Mack was head coach and Travis Steele was the assistant recruiting him, and it's only picked up since. Stanford could be a wildcard here as he holds a 4.3 GPA and is currently taking five AP classes.