LBJ: Super sophs duel to the end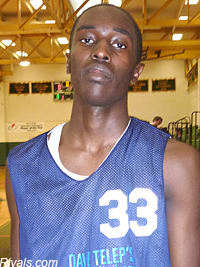 "I'd texted him about it before the game because everybody was talking it up," Stone told Rivals.com. "We knew we were going to go at it and we did.
"I told him (Rabb) that he had better guard me."
Rabb definitely guarded Stone and Stone returned the favor.
Let's start with Rabb, who came out the aggressor early. A bit more of a lengthy, slender athlete than Stone at 6-foot-9 and 195 pounds, Rabb showed off a diverse set of skills. He caught the ball on either block and spun quickly to the rim. He caught and faced up to hit jumpers out to 17 feet and worked the glass on both ends of the floor.
After starting a little more slowly, Stone -- who checks in at 6-foot-10 and 250 pounds -- got things rolling and played in a style reminiscent of a young Kevin Love. He would catch with his back to the basket from between six and 10 feet, survey his options and then go to work, finishing with a dizzying assortment of spins, scoops, jump hooks (with either hand) before stepping out to make some jumpers.
"It was a lot of fun," Rabb said. "I kind of just zoned everybody else out and locked in. I don't even really know what happened."
What happened was two future five-star prospects announcing their presence on a big stage. Not surprisingly, both guys will be watched heavily heading into July.
The 6-foot-4 senior-to-be definitely did that in Las Vegas. One of the country's premier jump shooters and skill guys on the offensive end, the smooth scorer had was draining jumpers from all over the perimeter.
While it's definitely fair to label him as a shooter, he's also a very sneaky athlete and clever scorer off the dribble who has a vast array of scoring moves and is a superior mid-range player.
He'll be looking to start cutting things down after the summer and is pretty sure that he'll use official visits to check out East coast programs and he'll likely wait until the spring to make a decision.
One of the top perimeter athletes in his class, the No. 16 player nationally from Greensboro (N.C.) Wesleyan Christian had himself an outstanding run at LBJ.
Most importantly, he proved that he's making significant strides towards rounding out his game and relying more on skill than his athleticism.
The first area that Pinson really looks improved is with his ball-handling. He's improved his ability to go left and does a much better job of using one or two strong dribbles to get somewhere and make something happen.
Additionally, he's keeping his head up and finding open teammates.
His jumper has always been the biggest area of concern with his game and while it still needs some work, it is also significantly improved.
Pinson has a little bit of a flying elbow that gets his shot out of alignment, but he's elevating much better, getting good follow through and shooting with much more confidence.
Of the group, only Duke and UNC have yet to offer. He'll look to narrow things down after the live period is over.








[rl]