Lathon attracting high majors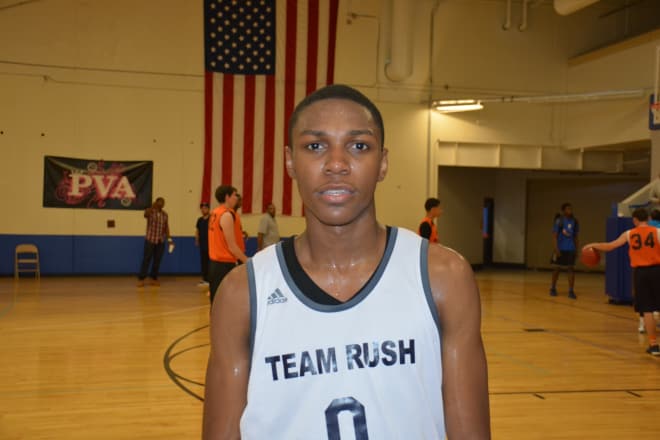 GRANDVIEW, Mo. -- Down on the south side of Kansas City, junior combo guard Jordan Lathon has been impressing coaches with the strides he's taken with his game. Wednesday afternoon, Rivals.com was in the gym to catch up with the three-star junior at Grandview High.
During the summer and his first two years of high school, Lathon always impressed with his athleticism, length and pushing 6-foot-4 size. Over the past few months he's tightened up his ball handling, developed his jumper and learned to play with more intensity.
"I've been getting a lot of repetition," said Lathon. "I'm getting comfortable with when I'm practicing you know going hard, making sure that everything is like when it's in a game. That way when I get into a game it's going to be natural."
Last weekend, Lathon took an unofficial visit to Colorado and left Boulder with a scholarship offer from Tad Boyle.

"Colorado, it's really nice out there," said Lathon. "Boulder is great. You can see the Flatirons and the coaching staff and players are great. The football game was really good too."
The most impressive Buff of the Boyle era -- Utah Jazz shooting guard Alec Burks -- was a Grandview graduate, something they were sure to point out during Lathon's visit.
"They talked about Alec for sure," said Lathon. "They talked about how they didn't coach him as a freshman but they came in and helped take his points per game from like 10 to 22. They talked about how they've had pretty good success with a player from Grandview."
In addition to Colorado, Lathon has picked up recent offers from DePaul, Boise State and Air Force. Tulsa has been in, Kansas State and Missouri are coming in this week and Oklahoma is expected in later in October while many others like Iowa State are calling.
For now, Lathon is in no rush and just wants to soak up all the interest while he keeps honing his craft.
"I don't have any plans for visits right now but that could change," said Lathon. "I'm just soaking it all in and just enjoying. When it comes time I'll look for an opportunity for a place that I can play as a freshman and make an impact at a place that's the best fit.