Latest on Wall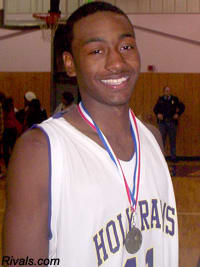 No. 1 ranked prospect
John Wall
was closing in on a decision for Memphis. But now that John Calipari might be headed to Kentucky and after a productive visit with Mike Krzyzewski, things have gotten complicated again for Wall.
First of all, Wall acknowledged that a switch from Memphis to Kentucky for Calipari would eliminate Memphis and put Kentucky into play.
"Kind of, basically would eliminate Memphis, and I would look into Kentucky," said Wall, a 6-foot-4, 184-pound point guard from Raleigh (N.C.) Word of God Christian Academy. "I wouldn't rush into anything. I did want to play for Coach Calipari. And if I had committed to Memphis, he is the coach I wanted to play for."
There has been another change for Wall. Previously planning to announce his decision at the Jordan Brand Game, Wall has postponed his announcement date.
"I'm just going to narrow my list down to two or three schools at the Jordan Game," he said. "By then I'll know what Coach Cal is going to do, and I also talked with Miami. They visited with me Monday. I'm going to visit there April 24. I hadn't had a chance to really sit down and talk with them. Now I'd like to see the campus and see what the school is all about."
On Sunday, the day prior to Wall's visit with Miami, Wall had a positive visit with Coach Krzyzewski.
"It was a good visit," he said. "Everybody has been saying I couldn't fit in at Duke and that I couldn't play for Coach K. But after listening to him, I feel better about the situation. He said he wanted me to come in and run the point and help them win a title. John Scheyer isn't really a point guard but more of a two guard, and they haven't had a fast, penetrating guard since Jason Williams."
When asked if he would spend some more time on Duke's campus getting a feel for the school, Wall responded, "probably so."