Latest on Selby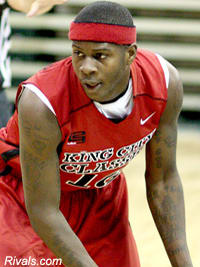 On the verge of visiting Arizona, elite combo guard
Josh Selby
has a couple other official visits scheduled for February and March.
Selby is also in communication with a school that is trying to get back onto his list.
Selby's mother, Maeshon Witherspoon, has confirmed with Rivals.com that Selby is still set to take an official visit to Arizona this weekend.
Selby, who is 6 feet 2 and weighs 183 pounds, has rescheduled his Kentucky official visit for March 7.
On Feb. 14, Selby - who is currently playing for Baltimore Lake Clifton High School - will visit Kansas for a second time. His first trip to KU was an unofficial visit.
Connecticut, which had been eliminated from Selby's list, is making a strong effort to get back into contention for the talented guard.
"I just spoke with Coach [Jim] Calhoun last night," Witherspoon said Tuesday. "It is tough to say if they will get back onto the list. We dropped them from the list because of a lack of communication. Now we are communicating."
Kansas coach Bill Self and Arizona assistant Book Richardson have recently been to Baltimore to watch Selby play. Indiana is expected to travel to Baltimore soon as well.
Selby is the No. 4-ranked prospect in the Rivals150.
Josh Selby scouting report:
A combo guard, Selby is a dynamic playmaker who specializes in knocking down tough shots. At times he can get out of control and force shots, but there is no denying his ability to create something out of nothing. Although he has a scorer's mentality, Selby also has the ability to creative opportunities for teammates. In addition to his offensive skills, Selby is a strong on-the-ball defender.