Latest from Orlando: Athletes First in spotlight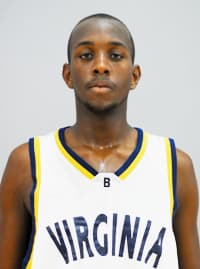 ORLANDO - Things began to wind down on Saturday at the 17 and under Super Showcase, and at the same time the 16 and under national tournament started to get going in full force. With so much action going on there were numerous intriguing games, including a pair that didn't even count and were just set up for television.
CRAZY DAY FOR ATHLETES FIRST
The way things were set up in Orlando on Saturday, Athletes First was positioned to have a day full of big time games. First they faced up with BABC in the quarter finals of the Super Showcase. Arguably that quarterfinal match up pitted the two best teams against each other.
Early on it was all Athletes First. The combination of
Kyle Hardrick
and
Daniel Orton
got
Alex Oriakhi
in foul trouble. Oriakhi actually picked up his fourth foul before halftime, and that limited him in every way imaginable.
With Oriakhi on the bench with fouls, BABC really needed
Phil Pressey
to step up, but he struggled mightily. Usually Pressey's game is to get into the lane and create for others with the pass or score himself with a floater, but everything Pressey threw up, he missed. Without the ability to score and control the game the bigger Athletes First team was able to take control for much of the first half.
Even with their stars struggling, BABC managed to rally at the end of the second quarter, and then really took control in the third. At one point BABC pulled to a five-point lead, and with
Xavier Henry
missing from the outside, it looked like they might pull the upset.
That is of course until Orton decided to be a man-child. In the fourth quarter Orton was far and away the best player on the floor. Oriakhi wasn't playing, and without him BABC had no chance to stop Orton. He was sealing his man and dunking on the offensive end, cleaning the glass, and also swatting shots away with regularity on defense. Orton's strong play lifted Athletes First to the win. For his part Orton finished with 23 points and 18 rebounds. Much of that production came in the second half.
Only a few hours after that tough and emotional game, the New York Gauchos came calling for Athletes First. Behind the strong athletic plays from
Terrence Boyd
, and the shooting of Henry, Athletes first gained some control early, but the kids from New York definitely weren't ready to give in.
Specifically it was
Durand Scott
who kept the Gauchos in the game. He had his three point jump shot working, and when he is hitting from deep, Scott can be nearly impossible to defend. Outside of Scott,
Doron Lamb
,
Russ Smith
,
Tyreak Johnson
, and several other Gaucho role players chipped in to keep things a ball game.
Trailing at the half, the Gauchos hit Athletes First with pressure in the second, and outside of Boyd they really didn't respond well. The Gauchos were able to take a lead in the third that extended all the way to the two minute mark of the fourth quarter.
At that point Athletes First gave the Gauchos a taste of their own medicine and unleashed the dogs defensively. A few turnovers led directly to buckets, and just like that Athletes First took the lead back. Some clutch foul shooting, and a missed jumper by Scott sealed a 54-49 win for Athletes First and a trip to the finals to face the Illinois Warriors.
As if that wasn't a busy enough day, Athletes First also participated in a made for TV exhibition game against Rising Stars Gold out of Chicago.
Because the game meant nothing, Henry, Orton, and company didn't see a whole lot of action, but when they were in they were very impressive. In that game however, the story was
Nik Garcia
and
Marcus Jordan
. Garcia got hot with his three-point jump shot to finish with 20 points, and Jordan continued his strong play from the Peach Jam with 17 points of his own.
Rising Stars won the game, but in the second half they were going mostly against reserves from Athletes First.
BOO WILLIAMS SHINES UNDER THE BRIGHT LIGHTS
Like the Athletes First v. Rising Stars Gold contest, the Boo Williams v. BABC game didn't mean much in terms of the tournament, but it was a good chance to see two of the top teams in the country play against each other with a national TV audience looking on.
Coleman used his freaky long arms, impressive athleticism, and ability to hit deep jumpers to befuddle the Boo Williams defense. With players keying on Pressey and Oriakhi, it was Coleman that stole the show. He scored in every way imaginable, and looked the part of a big time 2010 prospect.
When Boo needed an offensive rebound and bucket, Powell got it. When they needed a jumper, he made it. When they needed a defensive stop, he helped get it done. The next step for him is to get his body into shape, but at least on Saturday he was one of the best players on the floor.
In the anticipated match up between Pressey and
Kendall Marshall
, neither player really stood out, but both proved their worth. Marshall showed a feel for the game that is nearly unmatched. When he gets the opportunity to push the ball in space, Marshall always makes the right decision and sets his teammate up for a wide open jumper. Even when he doesn't get the direct assist, often times it is his pass that can lead to another pass to a wide open teammate.
Pressey struggled with his shot again, but got it going a little bit in the second half, and also showed some solid decision making skills. Neither Pressey nor Marshall played great against each other, but both showed flashes of why they are rated so highly.
Another player who really stood out for Boo Williams was
Tristan Spurlock
. Spurlock showed an ability to hit the outside jumper, and also he was able to score off the bounce. With coaches looking on intently, Spurlock showed versatility and the ability to score in many different ways.
FROM THE NOTE PAD
The Expressions Sophomores have a good looking player in Rod Odom. Odom is originally from New York, but attends prep school at Middlesex. He is every bit of 6-foot-6 with good athleticism and a nice jump shot. In a game against the Detroit Fire Odom had 13 points on a pair of threes and several nice moves off the bounce. If he gains strength he could surprise some people.
The Birmingham Ice were definitely one of the favorites coming into the Super Showcase Silver Bracket, and a huge reason is
Eric Bledsoe
. The scrappy point guard is one of the best defenders in the class and a more than capable scorer. On Saturday he helped the Ice rally to beat the Spiece Gym Rats. Bledsoe is simply a winner, and the consummate floor leader.
In their loss to the Birmingham Ice, Spiece Gym Rats star and Purdue commitment
Jeff Robinson
had his moments. Unfortunately those moments were surrounded by a lot of unmotivated play. If he can learn to play hard all the time, than Robinson has the tools to be very good.
In the 16 and under Nationals
Allen Payne
played well for the Queen City Prophets. The wing needs to be more aggressive, he only took seven shots, but finished with 16 points because of his ability to get to the foul line.
Playing well for Team Nashville was Terrence Clemmons. Though he battled foul trouble, Clemmons showed off some impressive athleticism to go along with a good frame for a wing player. If he plays more under control, Clemmons will be very difficult to handle.
Indiana guard
Jesse Berry
was the talk of the town last week after he got the best of
Marquis Teague
in a one-on-one match up, but he didn't continue that play on Saturday. Berry was off with his shot, and didn't attack much at all. He passes the look test no doubt, but Saturday was not one of his best.
SCHOOL LISTS
Eric Bledsoe mentioned South Florida, Minnesota, Mississippi State, UAB, South Carolina, and Chattanooga.
Highly athletic
Edward Daniel
is getting attention from Tulsa, UAB, Chattanooga, Georgia State, Murray State, and Ball State.
Allen Payne says his list is West Virginia, Dayton, Tennessee, Wake Forest, Xavier, Georgetown, Cincinnati, and Penn State.
After an impressive day overall Terrance Boyd mentioned USC, Connecticut, Kansas, Kansas State, Oklahoma State, Tennessee, Pittsburgh, Kentucky, and Western Kentucky.
Nik Garcia shot the lights out and then rattled off a long list of schools. He said Alabama, Miami, Providence, Wake Forest, Florida State, Maryland, Southern Illinois, Nebraska, and Kansas State have all been calling. Garcia made sure to mention that more schools were recruiting him, but those were the only ones he could remember off hand.