Last-minute decisions highlight signing period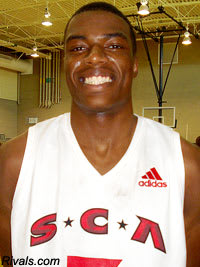 There was a collective biting of fingernails by college coaches from coast to coast who eagerly awaited signed national letters of intent from prospects on the final day of the early signing period.
There were 10 commitments on the final day players could sign. Four of them – all Rivals150 prospects – came after 4 p.m.
BIG ADDITIONS
Here are the five biggest commitments and signings that happened during the early signing period week:
Memphis was the big winner during the early signing period week. The Tigers won the services of Henry, the nation's third-ranked player. With Henry on board, Memphis climbed for No. 17 to No. 4 overall in the team recruiting rankings.
THE WEEK'S MOVERS AND SHAKERS
MISSED OUT DURING SIGNING WEEK
Kansas was hoping to have its shooting guard of the future locked up after the early signing period. The defending national champions, however, swung and missed with a pair of five-star players.
The Jayhawks were in deep with Henry, whose parents both played at KU, but saw the recruiting momentum shift to Memphis, where his brother C.J. is a freshman on the team.
Any team that missed out on signing a point guard can't be happy that the early signing period is over. The lack of point guards in 2009 has been well-documented and a number of schools at all levels were left empty-handed at the position. This weekend's National Prep Tournament could reveal some new names at the position as teams continue to search for players to run their respective teams.
ON PAUSE
[rl]