Las Vegas: Top performers from Thursday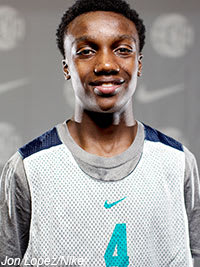 LAS VEAGAS -- Rising senior forward Miles Bridges stole the show at the Las Vegas Classic at Rancho High School on Thursday, headlining an impressive list of top performers from his event and the Fab 48. Here are our top 10 players from the dueling showcases.
1.
Miles Bridges
-- Playing in Las Vegas with the Mac Irvin Fire, the 6-foot-6 rising senior forward was spectacular in front of the head coaches of his five finalists,
Indiana
,
Kentucky
,
Michigan
,
Michigan State
and
North Carolina
. Bridges played like a boss around the rim, ripping rebounds with physicality and scoring with both touch and power. Then he faced up, buried some deep jumpers and was a tough guy to contain in transition. Bridges is currently under ranked at No. 24 nationally.
2.
Harry Giles
-- Until Bridges took the floor, it looked like the No. 2 player in the class of 2016 would be pretty tough to beat for the day's top performer. While the long and slender 6-foot-10 power forward was on the floor it seemed as if hardly anybody else got a rebound. Multiple times, Giles grabbed a rebound and then raced from one end to the other via the dribble and finished with aggressive dunks. Head coaches from
Duke
,
Kansas
, Kentucky, North Carolina and
Wake Forest
were all on hand.
3.
Marvin Bagley
-- We've written it before and we will write it again: Bagley is hands down the best player in the class of 2018. The soon to be five-star and No. 1 in his class plays above the rim from his power forward slot, swishes jumpers, blocks shots and is a very intelligent passer. His We All Can Go 16U squad has a lot of talent, but he is pretty clearly the one with the star power.
4.
Malik Monk
-- Sometimes, Monk makes things look so easy that you have to wonder if he's even trying. That's just an illustration of how good the rising senior shooting guard, who currently ranks No. 6 in the country, is. Monk simply made hitting shots, driving through traffic and running the floor at a higher level than everybody else look pretty easy on Thursday.
5.
Jayson Tatum
-- After playing most of the last three grassroots season with the St. Louis Eagles, Tatum showed up in Vegas to play with his good friend Monk on the Arkansas Wings. The recent Duke commitment and No. 3 player in the class of 2016 was outstanding as usual. His mid post game really stands out and he was making some deep jumpers as well.
6.
DeJon Jarreau
-- Even though the near 6-foot-5 point guard from Louisiana has already moved into the top 50 of 2016's rankings, he's still a huge upside guy. Playing with a fun-to-watch Elfrid Payton Elite squad, Jarreau got wherever he needed to go with the ball, scored at the rim and set up others for easy buckets. Jarreau recently "cut" his list to a final 12 of Wichita State,
Connecticut
,
Florida
,
Texas
,
South Carolina
, Tulane,
Oklahoma
,
Oklahoma State
, UMass,
LSU
,
Creighton
and
Miami
.
7.
Jared Harper
-- When the 5-foot-9 point guard first committed to
Auburn
, Rivals.com felt he might be a bit of a reach. That opinion was wrong. Harper continued a strong summer with the Georgia Stars as he led his team to a pretty thorough domination of Friends of Hoop. Harper's biggest asset is his shooting ability and he has deep range. The current three-star is a stone cold lock to make the next edition of the 2016 Rivals150.
8.
Ira Lee
-- The four-star power forward from the class of 2017 was outstanding during the Oakland Soldiers loss to Bridges and the Mac Irvin Fire. The 6-foot-7 four man played way over the rim, was beyond aggressive in attacking the glass and doled out some attitude and toughness. He's not on the floor to make friends, he's out to win.
California
head coach
Cuonzo Martin
is one of many who seems to be locking in on Lee.
9.
Udoka Azubuike
-- There are two pretty valid questions to ask about the Georgia Stars imposing big man. What happens when he can't steamroll a defender and dunk on them? And, at exactly which level of basketball will somebody finally be able to do that? Because on the high school/grassroots level, it's a joke and Azubuike punishes the rims at will. He needs to improve his touch and low post skill level, but he always seals his man, presents his passer with a great target and is aggressive in his play. Word on the street is that
Florida State
leads.
10.
Corey Kispert
-- His Friends of Hoop squad was a bit overmatched against the Georgia Stars, but the 2017 wing put himself on the map in impressive fashion. A solidly built 6-foot-6 wing, Kispert is a lights out jump shooter from deep who has some athleticism and grit in his game. Consider him a lock for the next 2017 rankings and it's no wonder that Gonzaga,
Washington
,
Washington State
and
Utah
have all offered him scholarships. Stanford,
Virginia
,
USC
and
Oregon State
are also involved.