Las Vegas: Several boosted stock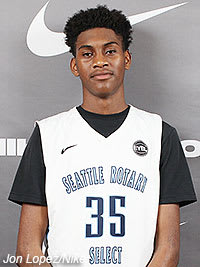 LAS VEGAS -- As usual, the stars shined brightly during Las
Vegas week. However, the major tournaments during the final live period of July
raise their profile. Even if they won't all enter the next rankings for their
respective classes, following are some of the biggest stock boosters from the
week in Vegas.
(Miss.) High, Carter was outstanding for MBA Hoops. The rising senior shoots
well, handles well enough to play the point and has taken huge strides with his
next 2016 Rivals150 as a four-star prospect.
himself a solid showing in Vegas to finish off a solid summer. He's a good
athlete, runs the floor well and can score some on the inside and out.
recent offers.
available big men in the class of 2016 and the 6-foot-10 Fernando has stepped up
at the right time. Originally from Angola, he's at Montverde (Fla.) Prep and has
very good upside. Fernando has a high major frame and athleticism and plays hard
enough that coaches are willing to bet they can teach him the skill part of the
game.
Elite squad, the 6-foot-8 power forward has put himself into contention for the
2016 Rivals150. He can play above the rim, runs the floor and has an outstanding
high school teammate) would like to play together in college if possible.
saw in Las Vegas, the 2017 small forward from the Seattle area is a lock to make
the next 2017 rankings. He has a quick release, good strength to go with his
State and Gonzaga.
who boosted his stock, McDaniels is the perfect example of a high major
"freezer" guy. The 6-foot-8 combo forward is a good shooter and good athlete but
lacks strength and consistency making him an ideal candidate to put on ice
(redshirt) for a year and then see what you have.
incorrect term for Mitchell, but the 6-foot-7 shooter has certainly come into
his own. Playing with Team Superstar out of California, he finished off an
excellent July and has shown that he is a Pac-12 caliber recruit because of his
size and ability to soften defenses with his shooting.
(Fla.) Southridge who has been planning to go to prep school, Mitchell isn't
likely to need that extra year. Mitchell is an athletic combo guard who can play
above the rim, hits enough jumpers to keep defenders honest and shows toughness
dribble guys in the class of 2017, Roberts has been living on the fringe of the
rankings for his class. With his performance in Vegas playing for Team Texas
Elite's 16U squad, he may have broken through. Strong and fast, he specializes
in getting to the rim and he plays with loads of confidence.
Loaded North Carolina for the final event of the summer, Wilkins stepped up and
benefitted from extra playing time. A near elite level athlete, Wilkins is a
hard playing 6-foot-5 wing who defends, slashes to the rim and has an edge about
him. He should be an absolute no brainer for very good mid major programs and
after his play in Las Vegas some high majors may need to take a look at him as a
role playing energy guy.