Las Vegas: Day Two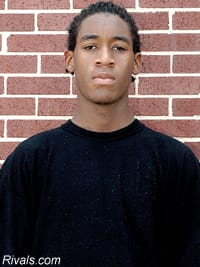 Sterns, a 6-foot, 200-plus pound guard from Waxahachie (Texas) High, showed why he was a coveted player in the rising sophomore class.
After a slow start in the first half, Sterns erupted with dead-eye shooting from the wing. The power guard let it fly to the tune of six threes and showed off a great touch with a high-arching, net-popping shot.
At face value, Sterns doesn't look like a bouncy athlete because of his stocky body. But he'll surprise you. Sterns powered his way to the basket with the dribble and rose up for a disgusting dunk over a defender, which had the quiet crowd wake up in a hurry. On the next possession, Sterns came down the floor and buried a three-pointer in the face of a challenger. It was a good day for the Texan.
Jones, a 6-foot-9 muscular power forward, just oozes potential. He was the most commanding presence at Legacy High School all day with his mature body. No one in the 15 and under division that we saw on Monday can match his physical traits.
As a player, there is still plenty of room to grow. Jones still showed plenty of things to like. For starters, he runs the floor very well. As a ball-handler, the big man can bring the ball up the floor and is a good, if not great passer.
There were good moments and while we still have yet to see a good percentage of the 2010 big men, Jones has been one of the better ones that we've laid eyes on this year in terms of sheer long term potential. His numbers weren't eye popping as a scorer (eight points).
There were times, however, when he would run the floor and had an open path to the basket for two easy points with a transition dunk. Instead, Jones would pass the ball up to a teammate that ran with him. He'll need to get more aggressive on the offensive end of the floor.
Turner is every bit the high-major prospect in 2010, too. He's a capable scorer with good athleticism, nice ball-handling skills and a solid wing defender.
St. Patrick's in New Jersey is always one of the best basketball programs in the country. Head coach Kevin Boyle traditionally has at least a half dozen of quality college prospects. His cupboard for the future is impressive and the talent in 2010 comes from his own bloodline.
Boyle's son, Kevin, did a fine job for his Team Jordan club in a morning game and helped pilot his team to a hard-earned victory. Boyle is a gritty player that has a better feel for the game than the majority of the young players in the 15 and under division. His play was poised but edgy and his jump shot is fundamental, as you'd expect from the son of a high-level, intense coach like Boyle.
Gilchrist used his great length to block a lot of shots, grab a number of offensive rebounds and even had a couple of great moments in the post with his back to the basket on offense.
The tools are certainly there to develop into a very good high-major guy. As is the case with all young players, Gilchrist just needs to add strength and fill out his body. It's a process with the young guys and he's one that has a lot of positives to build upon.
South Florida Heat 15U is a team worth watching for the Division I schools down the road. The team is stocked deep with players with size at the all of the positions but center.
Illinois assistant coach Jay Price was the first college assistant to make the long trek to Legacy High School for the action. He came out to see Mac Irvin's Fire 15 and under team. He had to like what the saw from Smith.
Maduka, despite his thin body, is not afraid to throw his body around down low and give his guards a big target. A fairly good athlete, he went high for rebounds and blocked shots and altered a lot of shots with his length. He's worth a look for a high-major but probably not a kid that helps right away at that level. A redshirt year would be ideal.
We snuck over to the 16 and under action at the adidas Super 64 tournament for a couple of games on Monday night. Actually, the two contests we caught weren't much of games. Both were bad match-ups and blow outs.
Pepper said he has offers from Miami, West Virginia (who was also on hand to see him play), Villanova and Virginia. The Wolverines are obviously involved, too. So is Florida and Pitt, Pepper said.
La Salle head coach John Giannini was on hand to see Team Kobe Bryant.
Hood has good size, a good shot and can spell minutes at the point. The 6-foot-5 guard Madisonville (KY) North Hopkins High School is a solid all-around player in the backcourt and made it look easy on Monday night.
[rl]