Las Vegas: Day Two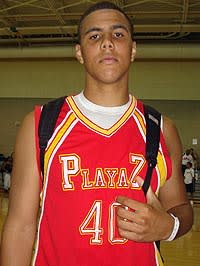 In a rematch of last year's championship game at the adidas Super 64, Pump 'N Run Elite and the Atlanta Celtics met once again in a pool play game on Wednesday afternoon.
This year's outcome and bragging rights title swung back to the West Coast after the Pump prospects knocked out the Celtics 72-68. The win was hard earned and it didn't come easily.
"That was probably the most important shot of the game," a humble Tapley said shortly after nailing a go ahead three-pointer. "That was a big play. Kawhi dribble into the lane and sucked everybody in. They went for it and I was able to knock down the shot. You have to hit those kinds of shots when you are wide open."
Tapley did and that shot was the reason why the Pumps came away with the victory. Tapley finished with a dozen points. Leonard put in nine points.
"Man, that was a big shot," said Honeycutt on Tapley's score. "If he didn't hit it, I was right there to get the rebound. That is how you have to be in these types of big games. You have to be ready. We were ready."
However, it was his defense that was the most impressive. Favors protected the rim like a guard inside a cash room at a casino on Las Vegas Boulevard. He was tallied with eight blocks but probably had a dozen in the contest.
The 6-foot-10, 270-pound center mixes fine hands, great footwork, a toughness in the paint and relentlessness in trying to establish position.
After seeing a handful of talented class of 2011 prospects on Tuesday, the trend of game-changing rookies continued on day two in Vegas with Wroten's effort. The rising sophomore punched his ticket and recorded 18 points and roughly a half dozen assists and rebounds.
Siva, a 2009 Louisville pledge, added 17 points and shot the ball well in the easy victory. He's as steady as they come on the West and will be a welcomed addition for Rick Pitino next winter.
Wayns, a Villanova commitment, is like a running back that sees the faintest glimmer of light and explodes to the hole to get the extra yard. There are few guys in the nation that know how to get to the iron with the power dribble like Wayns does. He's a master at that skill and scores well with both hands when he gets there.
Walker said his recruitment is "pretty much down to three." Southern Cal, Cal and Arizona is the trio "as of right now. I'm sure my coach will get more calls after this week and I'll look at everything at the end of the month."
Brown's perimeter game was on full display for SCA as he hit for 15 points in a tough loss. The 6-foot-6 rising junior is quickly becoming one of the most sought after players on the West Coast. Brown said "the entire Pac-10" is recruiting him while Texas, Indiana, UNLV, Oklahoma and Florida are also in the picture. Arizona State, San Diego and TCU have offered. He said he'll be making an Arizona swing in August to see the Wildcats and Sun Devils.
A game later in the day against Houston Select, Brown was outstanding and looked every bit of one of elite level players in the class of 2010.
Ferguson scored from deep, drove to the lane, challenged the shot-blockers and finished with a hard earned 17 points. He worked the boards and looked awfully familiar on the offensive end when challenged by a number of big, physical and tall defenders.
Already ranked at No. 13 overall in the class of 2010, Ferguson's upside mixed with production was enough to get the wheels in motion when thinking about just how high of a prospect he can be in the rising junior class.
The 6-foot-8 big man has incredibly soft hands, catching every fastball thrown at him and grabbed tough rebounds on both sides of the floor. In fact, he was the best rebounder on his team.
"I was terrible in the spring. Just terrible," Williams said. "But when I started getting used to the competition and the type of players that you play at this level, I started playing better. I adjusted to it and things have been going pretty good."
Oh yes they have. Williams has been one of the hottest players this month for coaches. He said Georgetown, Maryland, Xavier, Providence, Rhode Island and UMass have offered. John Thompson III, Gary Williams, Sean Miller and Keno Davis were all on hand to see the young 17-year-old score 14 points (12 in the second half).
The New England Playaz versus K.C. Pump 'N Run game was a three-point shooting contest. In the first half, there were 12 triples made by both teams. The K.C. kids had eight of them. Austin Carroll of the Playaz had the other four.
Carroll hit one more to close out the game in the second half and finished with 18 points. He was good when it mattered and didn't get into a shoot-off. Every triple he made was a money ball in this one.
Carroll, a class of 2009 prospect at the moment, said he is finally healthy and playing his best basketball of the year. Prior to the July period, Carroll said he has been offered by Holy Cross, Rhode Island, Fairfield, Xavier and Colorado. Since then, Carroll said Michigan, Penn State, Davidson and Providence have inquired.
Houston Select forward Arsaland Kazami was a beat up man after his 19-point effort against the SoCal All-Stars. The 6-foot-8 had a busted up elbow, a punch to the gut, a bruised up leg and countless little injuries. That's what happens when you play hard and play above the rim.
The Iranian has been a hot name this month because of his hustle and his athleticism. It's easy to see why Syracuse, Seton Hall, Memphis, Oklahoma State, Missouri and West Virginia are in the mix for him at the moment.
The entire roster of the French Hoops club is stacked with intriguing prospects. Each of the players are gifted athletes with college ready frames. There were four players that caught our eye.
Head coach Babacar Cy said most of his players will likely be in the United States for high school next year. If that is the case, Sy, Mbayne and Mbao are all sure fire high-major prospects while Koita is a good-looking mid-level guy.
Johnson said he has heard from Colorado, Liberty, Middle Tennessee State, Stephen F. Austin, Mercer, Arkansas State and Wagner.
Honeycutt said Southern Cal, UCLA, Arizona State, Washington, San Diego, San Diego State and Santa Clara have offered while Texas and Arizona are also very interested, he said.
Tapley, Pump 'N Run's star of the game against the Celtics said Stanford, Baylor and San Diego State are the current leaders while San Diego, Sacramento State, UC Davis and Wyoming have offered him to date.
Tapley's teammate Leonard said San Diego State, San Diego and Southern Cal have offered while the majority of the Pac-10 is looking along with Indiana, Michigan and others are also interested, he said.
The younger Gordon put in some big time work on Wednesday, scoring 26 points for his Indiana Elite LNO squad. The 6-foot-1 guard put on a scoring show (just like big bro) by driving to the hole and scoring at the rim.
Gordon, a class of 2009 prospect, said he'll likely visit Penn State in August. He also has offers from Kent State and Butler. Indiana and Miami-FL are also showing interest, he said.
Put Steve Adams on the watch list in the West for the class of 2010. The Rivals100 post from Pasadena (Calif.) High School is a work in progress and still getting into better shape. However, the finished product could be very good down the road.
Team Phily guard and LaSalle commitment Nurideen Lindsay scored 22 points against Raising Champions. He's one of the best scorers in Philly and brought his prowess to the desert. His play was instrumental in the win.