Las Vegas: Day Three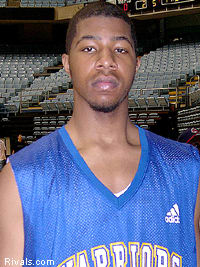 Markieff was credited with 36 while Marcus was tallied for 13 points. From our perspective, it was more of a clean split in the scoring column but both were equally impressive with their play.
Markieff was quick off of his feet and did work down low as a post scorer and baseline slasher. He worked the boards and took everything off the glass. There were times when Marcus looked like a McDonald's All-American level player. He hit a couple of good-looking three-pointers and drove to the basket with ease.
Off to Notre Dame Prep this fall, Gillenwater has emerged as a top target for Tennessee and said the Vols are after him the hardest. Bruce Pearl was on hand to see him. Pittsburgh's Jamie Dixon took in the game, too. Memphis was there as well. Gillenwater added Villanova and Florida are also interested.
Chaney did his best audition earlier in the month at Rbk U and blew onto the national scene with his tough play, ability to crash the boards and do the dirty work. A week later, Chaney played well in West Virginia. He's been a popular player to see for all kinds of schools here in Vegas.
Billy Donovan, John Thompson, Kelvin Sampson and Jim Calhoun were there to see him. So were assistants from Virginia, St. John's, Fordham, Marist, West Virginia, Virginia Tech, Ohio State and a good bit of others.
Despite the crowd, Chaney didn't really knock the socks off too many people with his play. The 6-foot-8 big man scored a rather ho-hum 14 points. There was a three minute stretch where the big fella was making a difference in the game. However, his run didn't last long. It will be interesting to see how his recruitment rolls out as the summer draws to close.
Cunningham, a 6-foot-3, 170-pound point guard from San Leandro High School, didn't have the game he is capable of having but there is a lot to like with the class of 2009 prospect. His class doesn't have a lot of depth at the point and his size is a major plus. Cunningham is a smooth operator and good with the ball in his hands. His perimeter game was off in the morning defeat.
Cunningham is being recruited from all levels. He said he has heard from Arizona State, Arizona, Gonzaga, Portland, California and UC Santa Barbara.
The mid-majors and academic schools are hot after him. McNally said he has heard from Loyola Marymount, Santa Clara, UC Santa Barbara, Penn, UC Davis, Columbia and Harvard.
Harris was aggressive around the basket as a scorer and rebounder. Seeing him play though in the paint was encouraging. The timing of his game was important. The gym was pack with coaches, several of whom where there to see him play.
Harris said his most recent offers are from LSU, Rice, Central Florida, Auburn, Virginia Tech, Western Kentucky and Toledo.
Babbitt scored 20 of 22 points in the second half and mixed it up both inside and out. Brown, a 6-foot-7 class of 2009 wing, had an important game for EBO. He slashed to the basket and found the holes to sneak into for scorers.
Brown said he has offers from Washington, Southern Cal, Pepperdine, UC Santa Barbara and interest from Arizona and Texas. He said he'll participate in Arizona's elite camp in August and hopes to make unofficial visits to UCLA, Southern Cal, Texas and Kansas in September.
Don't type cast as Kuric as your typical Indiana shooter and shooter either. He has some bounce in his legs and he's not afraid to get high for a rebound.
His recruitment is at a strange, but good, place right now. The regional mid-majors are all over him while schools like Duke and Louisville are interested. Michigan head coach John Beilein watched the Indiana guard. The Cardinals were represented. So where coaches from Iowa, Southern Illinois, New Mexico, Purdue and Indiana.
The Atlanta Celtics-Beach Ball Select game brought out a number of coaches in the first round of the playoffs. Head coaches in the house for the game included Kelvin Sampson, Sean Miller, Roy Williams, Billy Gillispie, Leonard Hamilton, Central Florida's Kirk Speraw and Nevada's Mark Fox. Assistants from Florida, Texas, UCLA, LSU, Clemson, South Florida, Georgetown, Auburn, Wichita State, Rice, Memphis, South Carolina, Ohio State, Vanderbilt, UAB and Georgia.
[rl]