Las Vegas: Day Three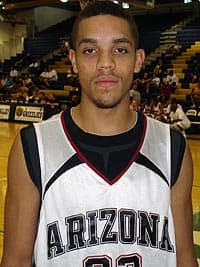 The kids from Texas had no idea as to what hit them, especially from the Panthers backcourt. Bradley continued his hot scoring tear, scoring 35 points in the blowout win. The five-star guard is second in the tournament in scoring at 31.8 a clip and doesn't appear to be slowing down any time soon.
He's a relentless scorer with amazing athleticism and poise on the hardwood. Defensively, he's just as intense (and maybe more) as he is offensively. There seems to be a great satisfaction with shutting his man down and then scoring with a highlight type of play a possession later. The great ones have those kinds of instincts and there hasn't been a better player in Las Vegas that can play with that kind of passion on both ends of the floor like Bradley can and has here.
Bradley is the most coveted guard prospect in America right now. The stands have been painted with college coaches from coast to coast at his games. How does it feel to be a rock star in the recruiting world?
"It feels pretty good. It's something that I've been working for all my life," Bradley said. "It's over-whelming sometimes and it can get annoying sometimes but that's just part of it."
Bradley said he'll put his recruitment into proper order after the summer ends. He'll be in Portland for the Nike Global Challenge and then in Brazil before starting school. After that, he'll sit down and hammer out the details to his recruitment.
Gaddy was the ever-present do-everything point guard in the win. He scored 19 points, a loud and effective 19 points, too. However, his direction of the offense was outstanding. The five-star guard dished out nine assists and protected the ball like a bodyguard. He crashed the boards for seven rebounds.
Gaddy's game was complete and efficient. Moreover, it was probably his best overall performance of the week, says one hoops maven that has watched each of the Panthers games this week.
Stern, a 6-foot-7 forward, was the beneficiary of Gaddy's pin point passing and was great on the offensive glass for putbacks and scores. The rising senior only missed three shots en route to 18 points by our count and has been impressive all week in Vegas. Consider his stock boosting.
All three of Snaer's three-pointers were beyond NBA range and he nailed two of them off the bounce and one with a defender right on him. His first half production was outstanding, scoring 14 points and tossing three assists in the first 16 minutes of play.
Snaer's improved his passing ten fold since the high school season and his ability to score off the bounce was one of the best we saw on Thursday.
Snaer said his recruitment "could be ending really soon, maybe even sometime in the next two weeks. I need to sit down with my AAU coach, my high school coach and my mom and talk. We just haven't had the chance to do that yet. Once we do, I'll know pretty quickly."
Snaer said Missouri, Florida State, Stanford and Marquette are looking strong for his pledge. The entire Missouri staff posted up for his game against Play Hard Play Smart.
Thompson scored every which way possible around the basket and hit a handful of threes and crashed the offensive boards. Despite his team's defeat, there was little debate as to who the top player on the court was in that particular match-up.
Raines blocked a half dozen shots and owned the boards. He's not afraid to toss his body around and make players earn their points when he's manning the middle. The Hokies needed a good anchor in their 2008 recruiting class and Raines should provide that in Blacksburg.
Elliott banged home two three-pointers and got to the foul line eight times. He's still very weak physically but he's very much a prospect and one to watch. Elliott said Gonzaga, Arizona State, Michigan and UC-Irvine are all looking at him.
Singler was the best passer in the games we saw on Thursday. He was his team's top scorer and was probably one of the top three rebounders on the squad. It's easy to see why most of the Pac-10 has circled the wagons around him.
Chances are that if a quality mid-major school started the month with the idea of evaluating Jamal Franklin as a guy that can be a program player for four years, then an offer could be coming soon.
The 6-foot-6 wing has enjoyed a very productive month of basketball and the more he plays, the more things he gets done.
Franklin said he has offers from UC-Riverside, San Diego and San Diego State. Iowa State, Marquette, Oregon State and Penn State have also reached out and shown interest this month, he said.
Franklin also said he'd like to hear from Oregon. The Ducks earned a "dream school" description from the rising senior.
Bejarano, a class of 2010 prospect, hits shots. Big shots to be exact. He rebounds, has an athleticism that is hidden upon first glance at him and he blocked a handful of shots.
"I keep telling myself that in 20 years from now, I'm going to look back and tell myself, 'Man, I wish I was back at that age.' I'm trying to cherish this as much as possible," he said. "Sometimes I think this is just too good to be true."
Funny, so is finding a humble kid that understands the experience that "blowing up" is. Bejarano clearly does. He's enjoying the ride that he is on at the moment and doesn't want to close any doors of opportunity.
"I'm trying to enjoy every minute of this. I want to talk to as many people and coaches as I can. I'm a people person. I'm a friendly guy," he said.
Bejarano is making friends quickly. Arizona State, Indiana and Tennessee have offered him, he says. UCLA, Arizona, Virginia Tech, Georgia Tech, Notre Dame, Florida and Oregon are also showing strong interest, he said.
He had his best scoring day against the Upstate Basketball Club, dropping in 44 points in a 115-76 loss. Penn has certainly established himself as the premiere scorer in the Reebok event.
One quality mid-level program had the line of the day regarding Penn. "I just had to let our staff know that we are now out of the Ray Penn sweepstakes." That's been the feeling amongst the mid-level schools that were in there from the start with the high-volume shooter. Penn has played himself into the high-major realm this week.
Only the Main Event had pool games going on during Thursday's action and there were a number of games that went down to the wire and provided a packed house with plenty of drama until the final minute.
"There is no better way to end a game than like that," a beaming Smith said shortly after bending the rim for a game-winner. "I think that will make people take notice."
The 6-foot-8 forward has been a hot prospect for the mid-level schools this summer. He said "nearly all of the MAC has offered" while Providence, Saint Louis, James Madison and Wright State have also offered.
Both are high-major guards and both are eerily similar to each other in skill set. Grant said Virginia Tech, George Mason, Providence and Oklahoma have offered.
Oladipo said he has offers from Maryland, UMass, Providence, George Mason and James Madison while Virginia Commonwealth, Texas, Clemson, Boston College, UNC-Greensboro, Virginia Tech and Virginia are also interested.
After watching a number of top prospects in the class of 2011 this week in Vegas, it is clear that the competition amongst the top guys will be fun to watch play out over the next couple of years.
Heck, it will fun to watch the Mac Irvin Fire team play out over the next couple of years. The program has a number of class of 2011 prospects that have the makings of elite level high-major players.
Thompson has a chance to be a five-star level player while Blackshear is already a major prospect in the 2011 for high-majors. Blackshear said Illinois, DePaul, Memphis, Duke, Southern Cal, Kentucky and "a lot more" are looking at him.