Las Vegas: Day Five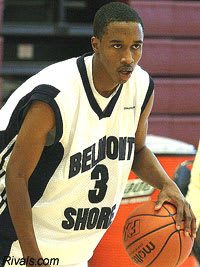 The Atlanta Celtics are on a red-eye flight back home to the Peach State and unlike so many passengers that leave Sin City on the late night trip, these kids are elated.
After four unsuccessful tries against Pump N Run from California, the Celtics finally got over the hump with a 75-64 win to claim the 17 and under title at the adidas Super 64.
As it has been all week, the Celtics used great balance and relied on their size to prevail over the guard-based club from California.
Graham is one of the most intense players in the country and he clearly sets the tone for the level of play for the Celtics. Throw any concerns about his height (6-6) and his average skill set away from the basket. Simply put, the kid produces and wins basketball games.
"This was great for our team," Graham said. "We've been together for a long time and have gone through some battles together."
"He's our sparkplug," Favors said. "He puts his heart into it. He gets us all going. You have to play hard with Delwan. You almost don't have a choice."
Favors certainly took notice and was the beneficiary of Graham's aggressiveness around the cup. The five-star class of 2009 big man scored 17 points (8-10 FG) and worked the boards for eight rebounds. There wasn't a more polished offensive big man on the floor on Thursday afternoon than Favors. He had a tremendous week in Vegas and certainly cemented himself as one of the top overall players in Sin City this week with his stellar play.
Fluid with the ball and dead eye with his passes, Singleton showed off his versatility that he's capable of doing.
"I think we just wanted it so bad. We had to come out and play like that," Singleton said. "I didn't want them to score. We wanted too badly. We all talked about winning it all last night at the hotel and we knew what we had to do. We've played them four times before and lost to them each time. That wasn't going to happen again."
The five-star guard was a cold one for seven from three and two for nine overall in the game. He finished with a rather un-eventful eight points, four rebounds and two assists.
Anderson, a UCLA commitment, scored 14 points and four assists in the defeat. There is something about Anderson's game that is different than most floor generals in the class of 2008. He's confident with his body of work and smart while controlling the game. It's not surprise why the SoCal locals love his long term potential.
Drew was equally of effective in the backcourt. He was hot from the perimeter, scoring on four three-pointers en route to his 15 points. It was a good showing for the North Carolina bound guard.
On the game, Jennings scored 23 points on five of 18 shooting, two of eight from the arc and 11 of 11 from the line. Jennings also grabbed a team high eight rebounds and dished out seven assists to three turnovers.
The New York Gauchos claimed another major tournament as they knocked out Team Texas in the championship of the Main Event, 101-86.
The summer has been good to the Gauchos as they went undefeated in June and July. The team won the Peach Jam earlier in the month.
[rl]