Las Vegas: Day Five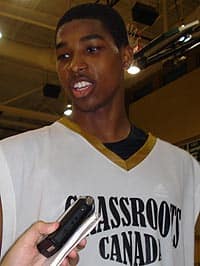 There might not be a better way to end the week's event than a double overtime thriller to decide the championship at the adidas Super 64 tournament.
If there was one thing the gym learned it is that Thompson is a cool customer at the foul line. He sunk 15 of 22 freebies, eight in the in extra periods.
Calliste may have been the biggest stock booster guard in the entire adidas Super 64 field this week. He proved himself as a valuable scorer and tough customer in the backcourt.
"Coach just always told us to never give up," Thompson said. "We had to stay strong in every game."
That had been the motto all tournament long for the Grassroots squad. No game was an easy game and several matches went into an overtime period.
Nelson had no reason to hang his head at the game's end. He scored a team high 26 points in the defeat and made big shots to keep the game close.
On the first day of the Reebok Summer Championships, the eight top seeds opened the event with the Create and Finish Cup. The mini tournament paired up some of the top players and top teams against each other.
And it is not even close.
Wall is putting all of the tricks of the trade is his bag of weapons. He knows how to draw the foul and score because of his yoga instructor like body control. He can take his pick on how he can kill off an opponent. He could score 40 if he wanted to. Or he could hand out 15 assists. Or sometimes, like on Saturday morning, he can go for 26 points, seven assists and six rebounds.
Either way, Wall's versatility is impossible to guard. He is an assassin. His play has been fantastic all week.
He was a monster on the boards (eight total in the game) and he was credited for three assists in the victory.
The class of 2010 stud scored 25 points and sparked the blowout win over the Panthers. Knight had his way against one of the best defensive backcourts in the tournament.
Like Boynton did in the first match-up, Knight did whatever he wanted to on the offensive end of the floor. The five-star guard scored with both hands going hard to the basket. His shot was dropping and his confidence was soaring.
Boynton, who scored 33 in the first go round, was rather quiet. He finished with 12 points.
Bradley struggled against the kids from south Florida. He finished with 12 points but did have an amazing and incredibly athletic block on a Boynton dunk attempt in the open floor.
When it comes to playing deep into tournaments, few teams have been better at it than the D.C. Assault 16 and under program. Once again, the Assault found a way to move on and play for a championship.
It took a big comeback and patience but the Assault kids overcame a 15-point deficit to claim a 78-74 win over the Playaz.
The secret to the Assault's success is balance and teamwork. That was the recipe for success once again. Paced by the production of guards Erik Atkins,
Atkins scored 18 points and had about six assists in the win. Lindsay scored 18 points. Thornton scored 13 points and eight rebounds. He was a difference maker when it mattered, drilling free throws and grabbing rebounds in the extra three minutes of play.
Big man Josh Hairston scored 18 points in the win, too, and had some big time turn around hook and face up jumpers for scores.
D.C. Assault went on to win the 16 and under division of the adidas Super 64, beating New Heights out of New York for the title.
Truth be told, the best point guard in this game was Isaiah Epps of the Playaz. The New Jersey native scored 23 points, handed out several assists and played like a warrior until the final buzzer.
The Rivals100 guard plays with a great understanding and with a "I've been here before, this is no big deal" kind of approach. Epps is a no-brainer high-major point guard in point guard heavy 2010 class.
Class of 2011 Quddus Bello put on a show with his top-flight athleticism. It could be easy to confuse him with Wall, too. That's the kind of bounce that Wall works with. Bello's athleticism led to 14 rebounds and three highlight reel dunks.
Williams, a 6-foot-2 combo, got hot from deep, hitting four three-pointers and led Houston Elite with 20 points in a quarterfinal win over Upstate Basketball.
William's recruitment is at it's infancy right now. He said he's heard from Arizona State, Stephen F. Austin, Texas-Arlington and Texas.