Labissieres unlikely journey to No. 1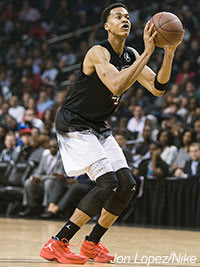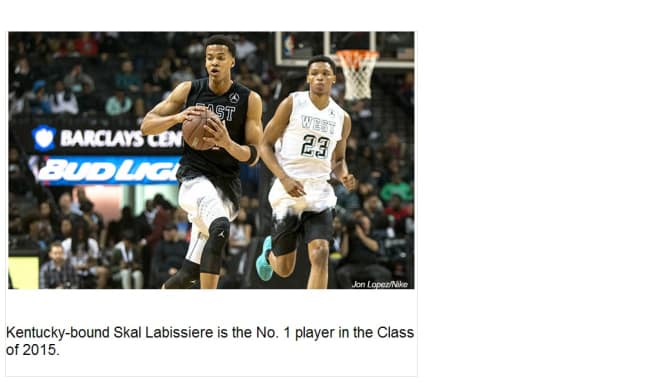 The only worry inside
Skal Labissiere
's mind on Jan. 12, 2010, was food. He was a 13-year-old who had just finished basketball practice in his hometown of Port-au-Prince, Haiti, with food on his mind and no idea a natural disaster was about to hit.
Labissiere, who is the top player in the final
2015 Rivals150
and will head to
Kentucky
next year, vividly recalls what happened on that fateful day when Haiti was rocked by a catastrophic earthquake.
Labissiere had just been given a ride home from basketball practice by his father. While his father stopped out front to make some repairs to the family's basketball goal, Labissiere went inside to get washed up before finding something to eat.
"My mom was in there sitting in the living room by the computer desk," said Labissiere. "I told her hello and I went into the bathroom to wash my hands before I went to the kitchen because I was hungry. After that, and I was in the bathroom with my little brother washing my hands and the house started to shake.
"I ran to my mom to hug her and my little brother did the same. It probably took us five seconds to get in that position and that's when the house fell on us."
In and understandable state of shock and confused by what had happened, Labissiere's mind went from thinking he was dreaming to survival mode.
"I heard people screaming on the outside and going crazy and I remember sitting with my mom and praying and screaming and hoping somebody would hear us from outside," he said. "We were stuck under there for like 30-45 minutes before my dad came. It was like the longest minutes of my life. I remember screaming and at one point I started to give up because I thought I was going to die and that's when my dad came."
On a day where the Haitian government has estimated that as many 300,000 lives were lost, Labissiere and his immediate family were relatively unharmed outside of some minor injuries that healed within a month or two.
Though their roof had caved in and Labissiere, his mother and brother were covered in rubble, their father was outside of the house and able to find two men to help him look for his family through the debris.
Labissiere says that after his father was able to find them, it took around three hours to get free of the collapsed house. Looking back, he feels strongly that it was the computer desk his mother was sitting near that may have saved the lives of he, his mother and brother. While the roof collapsed and much of the room around them caved in, the computer desk helped to hold up the wall behind them and kept them from being completely crushed.
Shortly before the earthquake, Labissiere's father had been approached by a man named Gerald Hamilton about becoming Skal's guardian and bringing him to the United States as part of his non-profit Reach Your Dreams outreach program. Up until the earthquake, the family had been hesitant to send their young teenager to a foreign country, but afterwards they made arrangements and Labissiere was off to the Memphis area by the start of eighth grade.
An avid NBA fan, Labissiere needed work, but arrived in the States a pretty well-coached and seasoned basketball player.
"I was skilled for my age, but I needed a lot of work," said Labissiere. "I had good coaching. My coaches back home, they taught me the hook shot and my jump shot. I needed to get more consistent when I got here and I worked on it but a lot of it was natural. I watched a lot of NBA basketball and tried to work on things on my own because basketball was not as serious in Haiti as it is here."
Shortly after Labissiere began his first of three years at the Evangelical Christian School in Cordova, Tennessee, the buzz spread about how there was a skilled and athletic freshman from Haiti.
The attention from major programs rolled in quickly and some began to question the motives of his guardian. Labissiere, though, has never questioned Hamilton and is fiercely loyal and thankful to him for reaching out to help him long before anybody could have seen him developing into an elite hoops prospect.
"People have to know that even before I became good, he treated us like we were part of his family and he and his organization did a really good job," said Labissiere. "Him, his wife and their whole family accepted us and took care of us. They didn't have to bring us over and they did and I'm really thankful for that."
Pushing seven feet and blessed with ample athleticism, uncanny balance and a high level of skill, Labissiere developed into a top five prospect in the class of 2015 by the beginning of his senior year. When it came time to select a school,
John Calipari
and his Kentucky program was an easy choice.
"I thought that Coach Cal was the only person who had the same mindset as me," Labissiere said when asked about why he picked Kentucky. "He is about working, winning, helping players look good and preparing them for the next level. It is a players program and I really connected with him.
"Coach Cal knows how to talk and he's a good salesman. I could see him as a politician if he wasn't in basketball. He's also really good at backing up what he talks about with facts. It wasn't really hard to believe and we knew his track record and I saw what he did with guys like Nerlens Noel, Anthony Davis and DeMearcus Cousins. It wasn't hard to trust him."
Age: url(https://ct.yimg.com/mr/uploads/1146/450317.jpg); background-repeat:no-repeat;">
Age: url(https://ct.yimg.com/mr/uploads/1146/450318.jpg); background-position:right bottom; background-repeat:no-repeat;">
"The harder I work, the better I will be as a basketball player and I'll be able to influence more people around the world."
-- Skal Labissiere
Ineligible to play his senior season at Memphis (Tenn.) Lausanne due to transfer rules, Labissiere instead played with a club team sponsored by his guardian's Reach Your Dreams organization. Free to line up their own schedule, Reach Your Dreams was able to play national level competition and Labissiere says that the confidence he gained playing as the marked man on those squads allowed him to arrive at post season All-Star events like the Nike Hoops Summit and Jordan Brand Classic and play at the highest level.
Not satisfied with a scholarship to Kentucky and a No. 1 high school player ranking, Labissiere is at his local YMCA by 5 a.m. every day honing his skills before lifting weights, going to school, doing his homework and getting back in the gym for another workout. He feels like he has only taken the first few steps in what he hopes will be a long journey in basketball and life and he has big dreams on and off the floor.
"Basketball-wise I would like to be a Hall of Famer one day and win championships," said Labissiere. "That's what I work for every day. Off the court, I want to be able to impact the world like God would want me to.
"I want to be able to go back home and help out the kids spiritually and with what they have to do to make it. Not just at home, but around the world. The harder I work, the better I will be as a basketball player and I'll be able to influence more people around the world."
Regardless of how far he makes it, Labissiere looks back on that fateful day in January of 2010 and sees it as a moment in time that set many bigger things in his life into action. It's also a very real reminder for him of just how lucky he is to be in the position that he's in and to always be thankful for what he has.
"It's amazing when I look back at things. Whenever I see people without arms or legs, in my heart I say that could have been me. For me to be playing basketball and doing what I'm doing now is a blessing. None of my family died and it's a blessing. I learned a lot from it and understand that everything can be taken from you in like five seconds."