King James ready for AAU royalty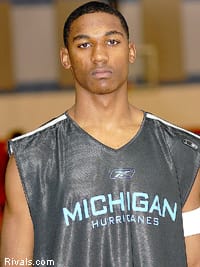 The April evaluation period will close out with a bang this weekend as the King James Shooting Stars Classic finishes the month of tournaments in Akron, Ohio. Six of the top 10 players in the class of 2007 will take to the court in the field and the championship game will be nationally televised on Fox Sports. Talk about star power.
Every year a number of spring tournaments spring up and on rare occasion can they live up to so many other established events like the Boo Williams, Charlie Weber and the Kingwood Classic.
The King James Shooting Stars Classic looks like it has some staying power long before any of the first games tip off. Tournament organizer Dru Joyce II, James's former high school coach, spearheaded a fantastic field of the nation's top AAU teams and players.
The Akron area will be taken over by 321 teams from the 17 under division to the 10 and under division. 48 gyms will be used. Tournament organizers are anticipating over 200 college coaches to attend the loaded event.
Fox Sports will televise the 17U championship on a national broadcast at 2 p.m. on Sunday from University of Akron's Rhodes Arena.
Mayo, the top ranked player in the class of 2007, will rejoin his D1 Greyhounds team this weekend after a surprise trip to Houston with the Miami Tropics for the Kingwood Classic. His welcome back gift is a loaded pool schedule.
Mayo and his mates will have their hands full on Friday night right off the bat. The D1 Greyhounds play the D.C. Assault at 7:20 p.m. at the House of the Lord gym.
The Assault were the runner's up at the Real Deal on the Hill. Beasley, the No. 3 ranked player in the class of 2007, is the heart and soul (and mouth) of the team. He's an incredibly difficult player to defend. His match-up with Walker, the No. 2 ranked player in the class of 2007, will be fun to watch.
The schedule allows coaches, evaluators and fans time to watch a number of the talented 16 and 15 and under teams in the field. Expect a good amount of young surprises to be uncovered this weekend.