King James: Friday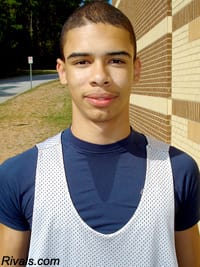 AKRON, Ohio
- With the top teams all participating in super pools, the King James Shooting Stars Classic had some interesting matchups on Friday night. One game in particular was a thriller as the CP3 All-Stars led by
Dezmine Wells
and
Bishop Daniels
managed to outlast All-Ohio Red.
Double Overtime Thriller
When CP3 and All-Ohio saw each other on the schedule they knew it would be a tough game dominated by big time guard play. Both squads are led by perimeter scorers, and the battle turned out to be everything and more for spectators and players alike.
Early on it was CP3 that had it working. North Carolina commitment
P.J. Hairston
hit a three and scored down low to get things going, and from there both teams really picked up the play.
After falling behind early,
Stevie Taylor
led All-Ohio back in a big way. Working against Daniels and the other talented guards for CP3, Taylor was able to get into the lane at will and showed his ability to convert in a variety of ways. Taylor used a floater, was smart converting around the rim, and hit a few threes from deep. Once Taylor got going, his running mate
Trey Burke
began to assert himself. Burke hit a three, and scored in the mid-range to give All-Ohio the lead.
With
Marquis Rankin
not in attendance, that put a ton of pressure on Daniels to produce and he did just that. The ultra explosive combo guard was putting on a show. Daniels scored above the rim with a pair of impressive dunks, and then hit from deep to keep his team in it.
Having Daniels play well was a huge boost, but he was far from the only scoring star for CP3. Wells and 2013 super prospect
Rodney Purvis
both showed their skills. Wells is an absolute freight train with the ball in his hands who can get into the lane at will with his combination of quickness, strength, and explosiveness. What was especially encouraging about Wells' performance is that he not only hit a few mid-range jumpers, but he also converted at a high rate from the foul line.
Purvis showed why he is one of the best in his class. The shooting guard is strong going to the rim, has a good handle, and also showed an ability to convert from deep. As he adds strength and experience the sky is going to be the limit. Going against high level guards at the 17 and under level, Purvis more than held his own.
Still despite the strong play from Purvis, Wells, and Daniels, CP3 found themselves down by two with time running out in overtime. Taylor hit a floater in the lane with under 10 seconds to go for All-Ohio, but CP3 would rush the ball up the floor. Daniels was a little bit out of control and seemed to attempt an off balance turnaround three that just didn't work, but the refs ruled a foul with .6 seconds left on the clock.
Shooting three shots with a chance to end it, Daniels missed the first free throw, but swished the next two to send it into double overtime. In double OT, Hairston scored the first bucket, but was answered by 2012 power forward
Elijah Macon
who played very well using his size advantage over the CP3 front line that didn't feature much in the way of a physical presence.
Still Macon and company couldn't do enough. Wells scored the last four points of the game, including a rebound and tip in with 10 seconds to go to give CP3 a big first game win.
Other Notable Performances
Class of 2010 unsigned senior
Nick Harney
is a great looking combo forward. He suited up with Ohio Basketball Club for their win over the King James Shooting Stars. Harney was a dominant force with his athleticism and strength. Also he hit from the mid-range, and at 6-foot-7 showed everything he is capable of doing.
Also playing well for OBC was
Jehvon Clarke
. The combo guard looks much improved from the summer, and has really tightened up his handle. Always a natural scorer, Clarke looked much the part of a player who could develop into an excellent mid-level floor general. His play was a huge reason that OBC was able to come away with the win.
For King James clearly their best player was
Jakarr Sampson
. Sampson was forced to handle the ball a lot, and at 6-foot-7 he looked extremely comfortable bringing it up the floor and initiating the offense. Sampson at first looked to be setting up others to make plays, but with his team needing him in the second half, he was much more aggressive looking for his shot, and scored around the rim with his length and athleticism. Also hit out to 18 feet with his jumper. Overall it was one of his better performances in some time.
Along with Sampson on the King James frontcourt was Louisville commitment
Zach Price
. Price showed a few flashes that made him such a hot commodity last summer. He hit a hook using his right hand which has been a major growth area, and then also had a few solid rebounds. His production wasn't great in the second half, but the tools are definitely there.
For the Michigan Mustangs big man
Trey McDonald
was solid. The 2011 class continues to look for more bigs to emerge, and McDonald could be one of them. At 6-foot-9 and 225 pounds he has a solid touch out to 12 feet, and also showed an ability to convert around the rim with intelligence and footwork.
School Lists
The list is quite long for
Rodney Purvis
. He has early offers from North Carolina Central, VCU, and Xavier. Also he listed North Carolina, Duke, Syracuse, Kentucky, Georgia Tech, NC State, Wake Forest, Virginia Tech, and Oregon State.
Things are picking up for
Jehvon Clarke
. He has an offer from Toledo, one is on the way from Kent State, and also Wichita State has been on him hard.
Nick Harney
says he hopes to sign with Akron, but he might be forced to go the junior college route.