King James Classic notebook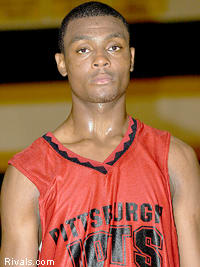 Wow. That hasn't been said a lot this year on the spring AAU circuit. In a matter of three games, wow has been thrown out a number of times. The kids are bringing it on the opening night of this strong event. The tone setters came out to play on Friday night.
Finding the best overall player is tough because so many players brought it. Five big-timer performers in four games isn't too shabby.
Pope is a fun kid to watch. He's vocal with his teammates, refs, coaches, fans, janitors, whoever. He's even funner to watch when he's dishing the rock. Pope is a wizard passer for a player of his size.
He was only tallied with 16 points in the win. The numbers may have shorted him with a couple of buckets. Quite simply, Pope didn't miss. He was down right divine. His double digit rebounds weren't too shabby either. A handful of blocks went straight to JOTS buckets. But those passess…wow.
Pope said he is open in his recruitment, listening to all comers. He said he will sit down at the end of the summer and evaluate things. Expect Kansas State to be somewhere in the mix, despite his close to vest answers regarding the schools he is looking at.
Jones went to work on a couple of excellent defenders – Manny Harris and Paul Williams – scoring on a tough high-arching shot on the baseline over a pair of defenders. Jones is a pure shooter from deep, going left with the dribble to score with a floater and when he is juking defenders with his jab step dribble, you can forget it. He'll step back and drain a jumper. Jones had it going on opening night in a big way.
Jones said he is still solid with Maryland despite the recent news of Rob Moxley, Jones's recruiter for the Terps, leaving the ACC school to return back to UNC Charlotte as the new associate head coach. Jones and his father said it is now just a matter of developing relationships with the other coaches. It will be interesting to see this one play out.
Rose is incredibly fast and plays fast but somehow manages to play under control despite the speed of the game.
A loud crowd follows Rose wherever he goes. Chicago is raising "Pooh" to be a superstar. So far, he is living up to his billing. Once his jump shot becomes refined…
Lucas has a quick pair of hands of the defensive end and will pick pocket you looking or sneak up on you and snatch your stuff and turn it into two points for The Family. Lucas did just about everything right in the second half.
It was a strong night for a number of class of 2008 prospects.
Even with those areas to work on, there is a lot of game in Braswell. He has good instincts and always stays alert on the offensive side of the ball. He is a solid passer in the post and reacts well to the defenses.
Braswell said Texas, Villanova, Virginia Tech, Virginia, Maryland and Providence are high on his list early on.
Pryor did a lot when he needed to. He scored 17 points in the victory. He's a quiet killer. Don't sleep on this kid. He'll put a game winner in on you or make a play that will.
Like Pope, Pryor said he is opening his recruitment up from Pitt. He said he rushed his decision and wants to take his time a second time around. His dream school? North Carolina.