King City Classic: Coleman shines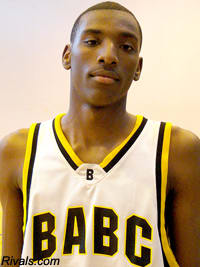 CLEVELAND
- The King City Classic wrapped up on Wednesday, and several prospects including Providence commitment
Gerard Coleman
made an impression.
Gerard Coleman
- The wiry lefty spent a lot of time handling the ball as a point guard for his team and was effective at the position. He created opportunities for his team while avoiding negative plays for the most part. His greatest gift is slashing to the basket and finishing, but he also shot the ball well enough from the outside to keep the defense honest. Coleman also did a nice job defending opposing point guards. His play during the camp has positioned him for a bump in the rankings.
Okaro White
- While focusing primarily on one court, one player on the other court kept catching my attention. Effort play after effort play by White kept producing positive results for his team. Whether he was chasing down rebounds, finishing in traffic or blocking shots, White was the frontline player having the biggest impact on the game. He continues to solidify his spot in the top 50.
Deshaun Thomas
- Unrealistic expectations for Thomas early in his career could have sapped his competitive spirit. But to Thomas' credit, that hasn't happened. He plays with a blue collar mentality, and is awful difficult to contain around the basket. His physical strength and determination to finish plays sets him apart from some of the softer forwards ranked in the top 30.
Tony Mitchell
- The long and bouncy forward has certainly proved that he belongs in this setting. His game is still rough around the edges, but his talent is evident. His physique, athleticism and motor only will carry him along way, but he also possesses a skill set ready to blossom. Mitchell will likely land as a four-star prospect in the post summer Rivals150.
Phil Pressey
- His defense has been impressive with his on the ball pressure, and as always Pressey has passed the ball at a high level throughout the event.
Trevor Cooney
- Shooting will be his niche at the next level, and Cooney has had stretches in this event where he shot the ball at a high level. Capable of making shots both off the dribble and the catch, Cooney will become a much more efficient shooter if he avoids forcing the issue and plays within himself.
Recruiting News
Andre Stringer
is still eyeing Alabama and LSU and plans to officially visit both schools.
Dominique Ferguson
rattled off a long list including Indiana, Kentucky, Tennessee, Florida, Texas, Arizona, Wake Forest, DePaul, Connecticut, Louisville and Duke. He appears to be in no rush to make a decision.
[rl]