Kentucky lands top 30 scorer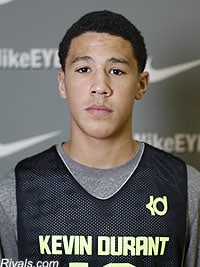 "I would like to announce that I will be playing in college at the University of Kentucky," Booker said in the announcement in front of his classmates.
A big and strong shooter who is a year young for his class -- Booker turned 17 on Wednesday -- the future Wildcat is one of the more skilled two guards in the country. He is comfortable coming off of screens, has mid range game and has learned to use his body to get to the rim and power through defenders.
As he continues to improve his ability to attack off the dribble, Booker projects as a player capable of putting up big numbers on the college level.

[rl]