{{ timeAgo('2022-07-25 18:05:57 -0500') }}
basketball
Edit
Kentucky adds five-star Justin Edwards to impressive class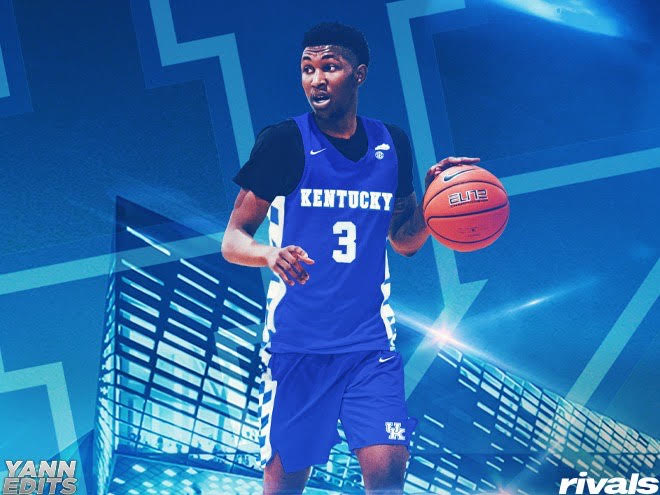 Kentucky added a third member to its 2023 class on Monday, and the latest piece to its recruiting puzzle is a big one. No. 3 overall prospect Justin Edwards announced his decision to sign with the Wildcats and gave UK fans plenty to celebrate at an otherwise slow time for college athletics.
Below, Rivals has a look at what Kentucky is getting in the Philly-based wing as well as what the news means for the bigger picture.
WHAT KENTUCKY IS GETTING
The 6-foot-6 Edwards has long had the body of an NBA prospect and has been known as a solid ball handler that thrives getting buckets in transition or taking defenders off the bouncer. The past year has seen him become a better long-range shooter, both on kick-outs and in pull-up situations. The improvement has been reflected in his ranking, as he's shot up the Rivals150 and now sits at No. 4 nationally. He possesses the size and athleticism to be a versatile and dominant defender, even if he lacks some discipline on that end of the floor. Edwards absorbs contact well and finds his way to the free-throw line with regularity. He'll become a more complete player when he gains the confidence to take defenders off the dribble to create offense in the half-court with increased regularity.
WHAT IT MEANS FOR THE BIG PICTURE
This was a big win for Kentucky, and not just because of the talent Edwards brought to Lexington. The haste with which John Calipari and company zoomed by Tennessee in the race to land the five-star forward was impressive, as the Vols were seen as the class leader not more than two months ago. The situation underscores the power of the Kentucky brand in the NIL era as well as Calipari and company's larger-than-life reputation on the trail.
Zooming out even more, Edwards' commitment is the third domino to fall in what could end up being a superclass of sorts for the Wildcats. Edwards joins fellow five-star Robert Dillingham and four-star standout Reed Sheppard on the program's 2023 commitment list. UK seems to be the leader for five-star prospect DJ Wagner and are still in the mix for other high-profile prospects such as center Ugonna Kingsley and wing Marquis Cook.
IN HIS WORDS
"[John Calipari] and [Orlando Antigua] can make me one of the great players to come from Kentucky." – Edwards to Rivals.com's David Sisk
"My visit [to Kentucky] was good, the atmosphere was crazy. It's a basketball state so basketball is the main priority and I like their playing style." -- Edwards to Rivals.com's Travis Graf