Kenny Wooten open to options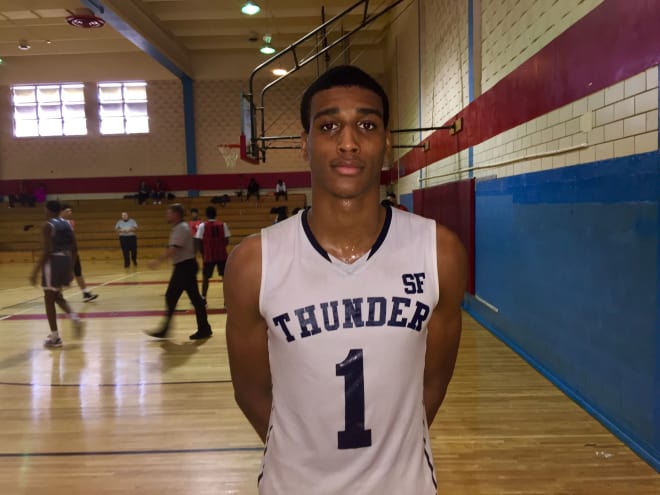 WICHITA FALLS, TEXAS -- This time one year ago, power forward Kenny Wooten was signing with Nevada as one of the biggest recruiting steals on the West Coast from the class 0f 2016.
Now, the 6-foot-8 jumping jack of a forward has received a full release from his letter of intent and finds himself spending a prep school year at Las Vegas (Nev.) Trinity International while he looks for a new college home.
Over the weekend, Wooten played in front of over 20 college coaches at the Elite 14 Showcase at Hirschi High in Wichita Falls, Texas and said that he was no longer comfortable with the situation at Nevada after some coaching turnover.
"The coaching staff completely changed except for the head coach (Eric Musselman), he like cleared house. I was mainly talking to Doug Stewart, he was the assistant coach, and that's who I had the most connection with and I didn't really talk to the head coach. It felt like I didn't completely know where I was going."
Last year, Wooten felt a bit rushed but that won't be the case this time around with interest from programs like Arizona, Arizona State, Kansas, Oregon, Oklahoma, California and many others.

"I'm going to take all things into consideration. At first, I felt pressured to hurry up and sign but this time I'm going to take it easy and figure out which school is the best for me."
What's particularly interesting about Wooten's case is that with the Trinity International program classified as a high school, he won't be able to play once his team starts playing games against high schools. Because of that he's looking at spending the next several months working out and going to school. Or, he could look to enroll somewhere at semester and redshirt in the spring.

"I'm just going to take it one game at a time and as soon as I'm done I'm going to train hard and get better," said Wooten. "I wouldn't want to play right away (at a college), so I would look to redshirt and get better at the college level. It's a real interesting situation and not too many people are able to do it."
Though how long he'll be staying at prep school is up in the air --Wooten said that he and coach Greg Lockridge hope to have a plan on whether to sign at semester or wait until the spring soon -- the bouncy forward does feel he's used the time since enrolling to improve.

"I've improved my focus," said Wooten. "I've had a real hard time focusing so I've improved my focus a lot. I really need to improve my ball handling, pulling up, the stop and pop. What I really do well is I attack and draw fouls and definitely rebound. I really enjoy rebounding."
While Wooten hopes to set a timetable for deciding and which programs he will visit, there is one program that he for sure wants to see. Bill Self of Kansas watched Wooten on Saturday and a trip to Lawrence is something that looks inevitable.

"I'm definitely taking a visit to Kansas, definitely, that's for sure going to happen," said Wooten. "All of the other ones I'm considering I don't know when I'm going to quite take them but I know I'm going to visit Kansas for sure."