Kegler stays the course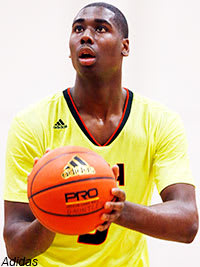 Arlington Country Day head coach Rex Morgan missed games at different points of the season due to a health issue. Plus, in December, an article in the Jacksonville Sun reported ACD's issues with several of its courses and curriculum not being recognized by the NCAA.
Three starters transferred to other schools within a month of the article's publication.
"Overall it was a good season," Kegler said. "If the team had been stable it would have been an awesome season. But all that was going on, it was one of the craziest (seasons) I've ever played, but I learned a lot from it and I finished up stronger."
According to the Jacksonville Sun, ACD is in an "extended evaluation period to determine if it meets the requirements for NCAA cleared status."
As his guardian, Carter said that he researched the situation at ACD prior to the start of Kegler's junior year, which is when he transferred in. He has no concerns about any issues arising with the NCAA Eligibility Center.
"We met with the school before he enrolled there and told them that we didn't want him at a school where there was any doubt," Carter said. When we first spoke to ACD they were very up front with us about the situation that was about to occur with the NCAA. They put him in classes with the Florida Virtual School. We talked to the NCAA and Florida Virtual is accepted by the NCAA. Matter of fact, that's how Prime Prep was able to stay open. The NCAA put them on Florida Virtual. So Mario takes Florida Virtual and that is fully accepted by the NCAA. In fact, he's done well. I want to say he has a 3.5 GPA or something like that. So he's doing well."
A sense of loyalty towards ACD coach Morgan was a big reason that Kegler decided to stay at the school while some transferred out.
"That's one of the reasons Mario did not leave," Carter said. "Rex had cancer and everything fell apart and he felt like everybody bailed on (Coach Morgan). He made it a point that he was not going to bail on Rex like that. That's one of the things that fueled his fire when those guys left because Mario was upset, he was angry. He admires Rex a whole lot and he felt like those kids weren't loyal to Rex."
A 6-foot-8, 210 pound forward, Kegler is wired to score. Throughout the adversity and despite increased defensive attention following the player exodus, Kegler averaged 24 points and seven rebounds for the season while shooting 52 percent from the floor, 41 percent beyond the arc and 82 percent at the line.
"I can score from any position on the court," he said. "I like to get to the rim and finish or get to the line. I can shoot the three or post smaller guards. This season I feel like I developed a whole lot. Defensively, understanding the game, when to take the shot and when not to take the shot and being a facilitator."
The Jackson, Mississippi native is a gym rat who works out each morning at 6 a.m. Then, he returns to the gym in the evening after completing his schoolwork for a VertiMax workout to improve his already impressive power, speed, agility and explosiveness.
On the recruiting front, Kegler said that he hasn't set any college trips. He's just enjoying his spring break and preparing for the first practice with his MBA Hoops AAU team in Mississippi where Carter lives and is also part of the MBA Hoops coaching staff.
When it comes time to make his college choice, Kegler said that Carter's advice will be considered since Carter is also in contact with the schools recruiting Kegler. We asked Carter which schools have been in regular contact recently.
"I think they'll be offering," Carter said.
We expect Kegler to pick up more offers while playing for MBA Hoops on the Adidas Gauntlet before trimming his list in mid-summer or late summer.