Kearney is staying home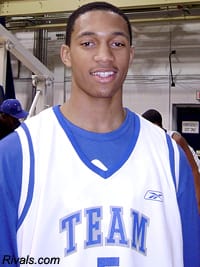 Class of 2011 players are beginning to really come off the board, and one of the most versatile backcourt players in the country has now made his decision. Four star point guard
Brandan Kearney
decided to end things on Tuesday by staying close to home and making his commitment.
At 6-foot-5 and around 180 pounds, Kearney can play any of three positions on the basketball floor. The question however for Kearney over the past few months was which basketball court would he make his home, and he has now made that decision.
"I chose Michigan State because the things I wanted out of a school, they supply all of them," said Kearney of his college decision.
In the end Kearney chose the Spartans over Michigan, Ohio State, and Kentucky. According to Kearney the Wolverines and Buckeyes both made the decision really hard. "Michigan really made it hard. Ohio State made it fairly hard, but Michigan made it really hard. I grew up liking them and I had two cousins that went there, so they made it really hard."
Kearney's father, Derrick, echoed his son's sentiments. "You get real emotional and comfortable with those kind of schools recruiting your son because they are so close. Ohio State had me intrigued because when we went to the campus and saw Thad Matta and met him, it was great. Also just the aura of Ohio State was intriguing. Just going to Ohio State and visiting and seeing the arena was impressive."
For Derrick, it was the entire Michigan State staff that made the difference for him. "In the middle-to-late part of the summer things just took off with Brandan and Michigan State. I felt real comfortable with the coaching staff of Mark Montgomery, Mike Garland, and most importantly Dwayne Stevens. I had a real good conversation with (Stevens) one day, and it changed everything for me."
After hearing overtures from numerous schools like Notre Dame, Indiana, Georgetown, Miami, and Florida, Mr. Kearney says they narrowed it down to the final four schools before settling on the Spartans.
Derrick Kearney said, "Brandan narrowed it down to Michigan State, Michigan, Ohio State, and Kentucky, but he made the Michigan State choice because how can you turn down Tom Izzo? It is a top five program in the country, and a ton of experience with getting players to the NBA and going to final fours. Also it is an in-state school. You love Ohio State and love Kentucky, but whenever you have Michigan and Michigan State in your backyard, I think it is always safe that you set yourself up for success down the line."
Brandan Kearney also said that staying in-state was a big key for him. "It was very important to me. That was one of the things that came into my decision, staying at home. My dad kept on saying that it isn't always good to go away because there has been situations in the past where kids went away and it didn't go so well. Even if you don't succeed and go to the next level, if you stay at home it almost always works out."
According to Kearney, Izzo and company have told him he could see time at numerous spots on the floor. "They are telling me I will play the one, two, and the three. He has told me I am a versatile player to the point where if I keep developing I will always find my way onto the court."
Throughout the recruiting process, Kearney and
Percy Gibson
have rumored to be a package deal, but according to the elder Kearney that isn't something that will necessarily take place.
"Percy and Brandan have been playing together since they were eight years old," said Derrick Kearney. "Percy's mom, Sandra, gave me the mantel from way back then to have Percy around like he is my own son. With Percy being my godson, I need to make sure that his situation, just like Brandan's, is the best for him."
He continued, "We have told the boys numerous times that there is a big chance that they could play together, but there is also a big chance that they might not play together."
With that Michigan State is definitely still an option for Gibson, but nothing is set in stone. "We have been in contact and still will be in contact with Michigan State. Tom Izzo has said throughout this recruitment process that he hasn't given up on Percy, and that Percy could end up a Spartan."
Kearney added, "At the end of the day I think Percy will be a high-major player, whether that is Michigan State or somewhere else."
This commitment is the first for the Spartans in the 2011 class, and it comes less than a week after Izzo and company landed five-star 2010 forward
Adreian Payne
.