KC Classic Friday Night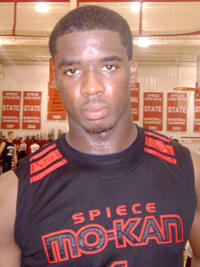 Shawnee, Kan.-Held on the campus of Kansas State in Manhattan the past couple of years as the Manhattan Classic, the Classic moved to suburban Kansas City for 2010 and changed it's name to the KC Classic. Friday night, host team Spiece Mo-Kan Elite was busy holding serve in each the 15, 16 and 17U divisions. Leading the way was future Kansas State Wildcat Nino Williams who played up to his #102 ranking, and then some, in the latest 2011 Rivals150 as Mo-Kan took out Athlete's First in a 17 and under division nightcap.
K-State's Nino emerges victorious
Friday night's nightcap between Spiece Mo-Kan Elite and Athlete's First set up as the battle of Nino. On the Mo-Kan side, you had Kansas State bound
Nino Williams
a 6-foot-5 power wing with an improving jumper while Athlete's First rolled out exciting 2012 point guard
Nino Jackson
. Adding to the intrigue was the fact that Williams (number 102 in the 2011 Rivals150) would be able to match up with #103 in the 150,
Joshua Richardson
.
Overall the game was ugly. Jackson never really got it going, Richardson impressed on drives to the rim and showed athleticism, but he left lots of points on the rim. Williams, however, totally stole the show as he carried the load offensively and led Mo-Kan to a convincing win.
Likely headed to Brewster Academy for his year of prep school, Williams - who will graduate from Leavenworth (Kan.) High on Saturday night - started his party a night early. He got loose in transition for dunks, knocked down some jumpers, attacked off the dribble and rose above the crowd for tough rebounds on each end of the floor. A powerful kid with a high revving motor, Williams is a perfect match for Kansas State and head coach Frank Martin's intense approach.
More Friday night notables
Semi Ojeleye
, SF, Mo-Kan Elite 15's- A solidly built 6-foot-5 wing, Ojeleye had a huge freshman season at small class Ottowa (Kan.) High. Friday night, Ojeleye continued to prove that his big numbers have more to do with his ability than playing against small school competition. A potential high major, he's got strength, a nice looking jumper and above average athleticism in the lane. His hands are top notch and he's a hard worker on each end of the floor.
Dominique Wilson
, PF, KC 76er's 16's- Outmanned as the only guy with size against a huge Martin Brothers 16's unit, Wilson shrugged off an early technical foul and competed in the lane. While it didn't result in huge numbers, it was impossible not to see the long term potential of the bouncy 6-foot-8 insider. Currently a class of 2012 prospect, he's likely headed to a prep school and the class of 2013.
Marcus Paige
, PG, Martin Brothers 16's- For a while, Paige and his teammates received a stiff challenge from the KC 76er's. But, when it matter most, the 6-foot-1 lefty took total control of the game. A fine ball handler and terrific decision maker, Paige generally concentrates on getting others involved and plays as a pure point. However, when it's winning time, he takes over the game and did so Friday night scoring on a series of left handed drives. There were a few current D1 players in the gym and they were effusive in their praise and certainty that he's a high level college point guard.
Mike Gesell
, PG/SG, Martin Brothers 16's- While Paige was waiting for his opportunity to take the game over, Gesell was knocking down jumpers from all over the floor and making plays to keep his team in the game. He won't draw your attention in warmups because of the way he's built, but he demands it once the ball is touched. Upper level mid majors will covet him while high majors think long and hard about how aggressively to pursue him.
David Kravish
, PF, Mo-Kan Elite- While teammate Nino Williams carried a bulk of the scoring load, the 6-foot-9 Kravis impressed as well. A skinny but swift and athletic big, he motors up and down the court like a much smaller player. He blocked a handful of Athlete's First dunk attempts, got on the glass and flashed solid hands and touch in the lane. His shoulders are pretty narrow so the biggest question schools will have to ask is how much weight can they put on him? Sitting right on the mid to high major bubble, Kravish heard from most of the Missouri Valley as a junior and has field recent interest from Big 12 programs like Colorado, Kansas State and Missouri (where he's been invited for elite camp).
Nightly nabobs
The night started off with a highly anticipated matchup between the Kansas City based Mo-Kan Elite 15's and hometown rivals, the KC 76er's. Unfortunately, highly touted 6-foot-5 wing
Ishmael Wainright
of the 76er's had to sit out for disciplinary reasons. Wainright did mention that he's for sure hitting elite camps at Kansas and Indiana and he may also make stops at West Virginia and Baylor this summer… High scoring wing
Peter Jok
has been getting the lion's share of the attention for the Kingdom Hoops 15 and under squad and as usual he led his squad in scoring during a blowout win over Martin Brothers 15's. But, keep an eye on 6-foot-7 power forward
Payton Plagge
down the road. Only a freshman, he's a faceup four man who can run the floor and has some skill. … Credit KC 76er's 16's point guard
Benny Parker
for stepping up and challenging
Marcus Paige
. Compact and strong, Parker is a super on the ball defender who helped his squad push Paige's Martin Brothers 16's group to the brink thanks to his second half offense. …
Adam Woodbury
may be pushing seven feet tall before he finishes growing. The Martin Brothers 16's lefty is a big man who can run, blocks some shots and draws lots of fouls with his aggressive play in the lane. He has got to improve his free throw shooting, though, as he leaves lots of easy points on the rim due to his poor shooting from the charity stripe. …
Finally, we didn't get to watch him play on Friday night, but we were able to spend some time with 2012 shooting guard Wesley State. Staten indicated that he backed off of his commitment to Iowa State because he felt it was just too early to be committed. He plans to trip to Kansas and Florida for elite camps and has also heard from Minnesota, Creighton, Iowa, Northern Iowa, Wisconsin, Stanford, Kansas State and others. …