Kansas offers Atlanta guard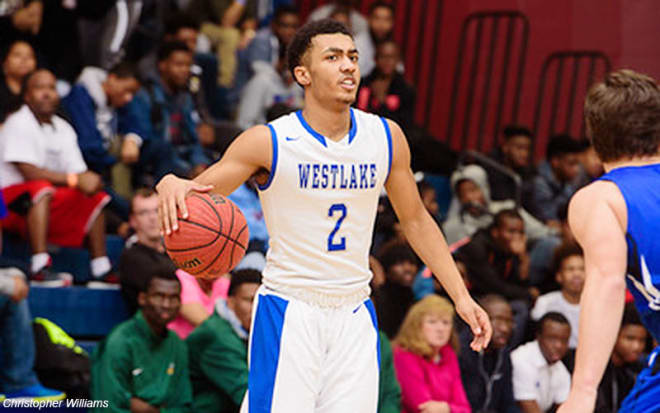 Atlanta (Ga.) Westlake point guard Jamie Lewis missed his entire freshman year of high school basketball recovering from a knee injury. He made his return to the court last summer during travel season and capped it off by helping the Georgia Stars 16U take home the Peach Jam title.
The four-star point guard has picked up right where he left off in the summer and has had a great start to his sophomore season. Recruiting is starting to pick up as well. Offers have come in from Auburn, Florida, Georgia, Georgia Tech, Iowa State, Memphis and most recently from Kansas.
IN HIS OWN WORDS: Lewis spoke about some of the programs recruiting him early on in the process.
Florida: "I've talked to their coaches, but I haven't visited there yet. My teammate Davion [Mitchell] visited there and he said it was pretty nice. Their coach was really cool and he said they need a point guard in my class. After I visit, I'll know more about how I fit there."
Georgia: "I like their program. I think they are up and coming. It's always good to stay in the home state. I like their program."
Georgia Tech: "I like their program as well. That's real close to home. I don't know if I'm going to stay that close to home. Don't get me wrong, I like the school and you can get a great education there."
Kansas: "That's a big one. I was somewhat surprised, but I was happy too. I like their school. They are always good. I haven't visited yet, so I don't know too much other than that."
WHAT'S NEXT?: Only a sophomore, don't expect a decision to come from Lewis any time soon. He's focused on helping Westlake win a state title in Georgia's highest classification and will try to help the Georgia Stars defend their 17U EYBL championship this summer. Expect him to be quite active taking visits with his brother Rivals150 guard Daniel Lewis and close friend Chuma Okeke as the three of them plan on going to the same school.
RIVALS' REACTION: It's obviously hard to project this far out where a 2018 prospect will end up. That being said, watch closely where Daniel Lewis and Okeke end up in the 2017 class. If they end up at the same school, there is a good chance the younger Lewis could follow. At this moment, Auburn and Georgia seem to be gaining the most traction with the trio.