Just A Minute With Justin Young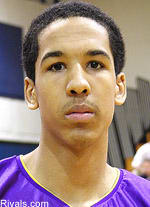 In this week's installment of Just A Minute, RivalsHoops.com National Recruiting Analyst Justin Young takes a final look at the Spiece Run N Slam, Greg Oden's dominance in the post, the NBA Draft and more.
SURPRISE, SURPRISE
He's not going to win any points for style and grace but Luke Harangody (left) will earn the respect of true hoops fans. The 6-foot-8, 245-pound class of 2006 prospect is a blue collar post player that loves to battle for boards, dive for loose balls and score inside the paint. The Andrean High School (Ind.) product has received a fair share of interest of late from Xavier, Wisconsin, Illinois, Purdue, Dayton, Indiana and Northwestern. Harangody will be a strong candidate for national rankings when we release our updated list for the class of 2006.
Harangody's SYF teammate Jamil Tucker also drips high major potential. The 6-foot-8 sophomore small forward from Gary, Ind. is an intriguing prospect. He showed off his great high-arching shot and handles the ball like a guard. Big Ten schools have been actively involved and many more will be involved after the ABCD camp where he'll likely shine.
Wilson Chandler (right) was one of the come-out-of-nowhere national recruits. The 6-foot-7, 185-pound small forward from Benton Harbor (Mich.) High School was always around the basket, grabbing rebounds and scoring in traffic. He displayed good athleticism and solid ball handling skills.
The class of 2005 prospect said his school list consists of Xavier, Michigan, Michigan State, Ball State, Eastern Michigan, Central Michigan and Bowling Green. Chandler said Xavier, Michigan State and Ball State visited him during the live period and caught a glimpse at the promise he has as a potential high major player. There is one school that he thinks highly of.
"Michigan State - they are my favorite," Chandler said.
While the Spartans are relatively new on the scene, the interest level on both sides is certainly there. Chandler said he's open to new schools and hopes to shine on a bigger stage with the Michigan Hurricanes. The Spiece Run N Slam was his first tournament with the club. He was originally playing with the Michigan Mustangs.
Elliot Johnson was another player that established himself as a top recruit over the weekend. With ranked teammate Wes Matthews, Jr. missing in action, Johnson took advantage of the opportunity and boy did he cash in. Johnson is a versatile 6-foot-8 small forward that does a little bit of everything. He's solid with his mid-range game, he's not afraid to get inside to rebound and he's fairly athletic.
Stanford, Wisconsin, St. Louis, Notre Dame, Wyoming, Purdue, Wisconsin-Milwaukee and Akron have all shown a variety of interest in Johnson. He'll be at the Tournament of Champions in North Carolina later this month.
ODEN AND EVERYONE ELSE
The class of 2006 is stacked with talent, particularly the big men. Rivals.com has - and probably always will - Greg Oden ranked as the number one player in the nation. He did nothing to change that at the Run N Slam. A number of players had the opportunity to prove their worth against Oden, though. Mitchell Carter (left), the No. 13 ranked player in the class of 2006, was one of those players.
Carter, who stands 6-foot-11, 250-pounds, matched up with Oden in the tournament field on Saturday night. On paper, the match up was intriguing prior to the game but the numbers didn't lie in the end. Oden finished with 17 points in the 79-49 stomping while Carter added eight points.
Oden started the game off with a beautiful turn around hook shot and converted on an and-one dunk. Carter did play solid defense at times, forcing Oden to step on the baseline for the turnover but he struggled boxing Oden out underneath.
In the second quarter, Oden scored twice around the bucket but displayed amazing body control, scoring on a reverse layup and a beautiful pivot move. Carter again played solid defense, pushing the 7-footer off the blocks, forcing him to step out of his comfort zone. Carter later scored on a 15-footer.
Carter did display a nice soft touch and rebounded well against a younger Aaron Pogue (a very talented class of 2007 prospect). But in the end, it was Oden prevailing. Who's next?
GOING, STAYING, WAITING
In a year where former preps-to-pros players Kevin Garnett won the NBA Most Valuable Player and LeBron James won the NBA Rookie of the Year, the 2004 NBA Draft will be dominated by a number of players with goals to become the next KG and King James. Six of the top ten players in the Rivals150 have declared for the draft.
Dwight Howard (No. 1), Shaun Livingston (No. 2), Josh Smith (No. 3), Al Jefferson (No. 4), Sebastian Telfair (No. 6) and J.R. Smith (No. 8) have all entered their names for the draft. Livingston, Jefferson and J.R. Smith all decided to go public on Monday.
Howard is still considered a top two pick. Livingston, who some scouts believe is the best long term player in the entire draft, is considered a top 10 selection, according to our sources. Josh Smith is being looked at by every lottery team and from there, it gets interesting.
Telfair has already hired an agent and is in the process of inking a major shoe endorsement deal. The hype has clearly generated a marketing buzz despite the lukewarm reports from those inside the league. Telfair hasn't received rave reviews from those with the high picks but his ability to pour on the charm may sell season tickets for a struggling franchise.
With each of these instant impact players skipping the college game, the opportunity is open for a number of players next year as true freshman. Who will be the Carmelo Anthony and Luol Deng in 2004-05? Rudy Gay comes to mind. The UConn bound small forward has star potential and the minutes are available with the National Champions. Do do Malik Hairston and Randolph Morris - the only two players in the top 10 not committed. Both expected to make their college decisions this week.
Hairston has put Kansas, Michigan, Ohio State, Oklahoma, Oregon and UCLA fans through an emotional roller coaster ride over the last couple of months. His plans change almost daily and he's played his cards very close to his vest. Expect it all to end this week.
Morris will announce his decision on Thursday at a press conference, according to Landmark Christian head coach Bryan Bartley. He told us Georgia Tech and Kentucky are neck and neck in the race and the option of the NBA is still being considered.
HOME SWEET HOME
April was the busiest month in recent memory here at RivalsHoops.com. We've blanketed the nation, covering seven major AAU tournaments in four weekends. Now that we are home, we've gone through our notes and revamped our top 150 list for the class of 2005 and it will be released in the coming days.
May is a quiet period for coaches but it won't be here. We will continue to pump out the content on the nation's top players and the up and coming prospects waiting in the wings.
We will hit the road again at the end of the month for the Tournament of Champions in the Raleigh-Durham area in North Carolina and Nike Memorial Day Classic in New Orleans.