Junior wing Christian Bishop creating buzz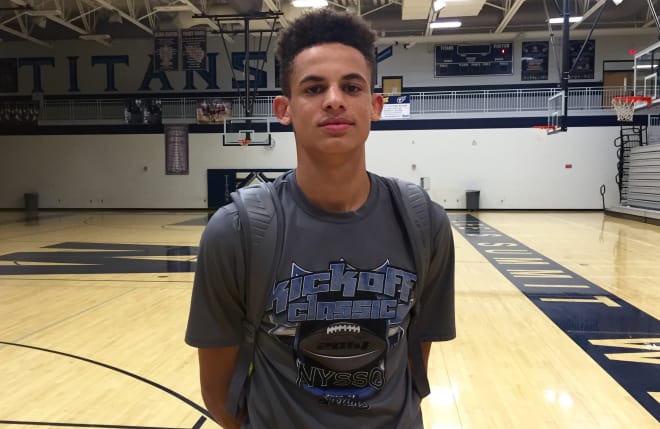 SUMMIT, Mo. -- Even as recently as a few weeks ago, junior wing Christian Bishop was relatively unknown in the Kansas City area. After a few workouts in front of college coaches, the 6-foot-6 small forward at Lee's Summit (Mo.) West's name is ringing out as a prospect with a high ceiling and he's on the verge of a breakout year.

The recruiting cycle is so sped up these days that a high-level player who saw little time on the varsity during his first two years is looked at as a bit of a late bloomer. The reality is that Bishop's emergence as a high-major prospect is the result of hard work meeting with physical maturity and a growth spurt that has seen him sprout up 10 inches since entering high school as a 5-foot-8 freshman.

During a Monday workout at his high school, the slender southpaw buried several deep jumpers, displayed very good athleticism and showed off more than adequate ball handling ability.

"It feels great that I'm being recognized for my game, I've just kept on working and getting better every day," said Bishop. "I think being in the gym working on my game has done more (for attention) than my height, but my height has helped too."
Last week, Tulsa was the first program to offer Bishop a scholarship and it was memorable.
"It was really exciting, I liked it a lot," said Bishop. "It was like "Oh my God this is really happening," I'll remember it for sure."
Over the weekend, Bishop took an unofficial visit to Missouri. Tigers head coach Kim Anderson and an assistant were in to see him on Monday night and promptly offered a scholarship.
"It was great, I got to go watch the team play and meet the players," said Bishop about his visit to Columbia. "I got play around with them and it was a lot of fun. I think I played well, they are obviously a lot stronger, but I think I can keep up with them."
Wichita State has been in to see Bishop and Creighton, Nebraska and Wake Forest have reached out. There's no rush on Bishop's part to make any kind of move and the plan is to take in the process and see where it leads him.