Junior guard Logan Johnson learns value of hard work from NBA brother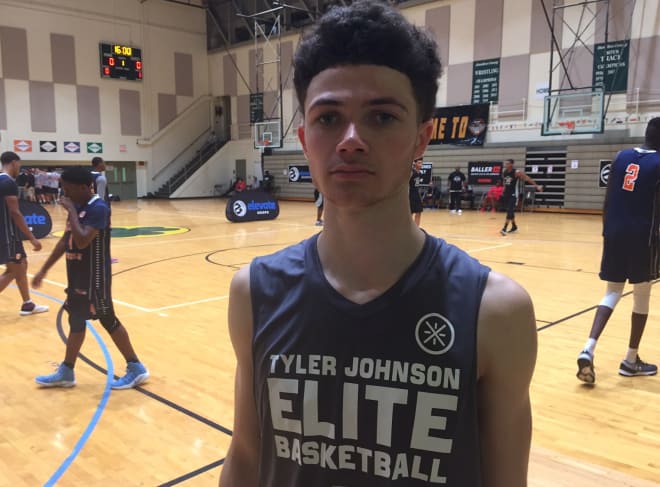 There are a lot of players in the NBA who were highly ranked as high school prospects, but there are many who weren't highly ranked. Junior point guard Logan Johnson from Mountain View (Calif.) St. Frances knows first hand how a hard working and under the radar prospect can make the NBA because he's seen his older brother Tyler Johnson do it.
Coming out of high school, the older Johnson was a well regarded prospect in Northern California but didn't have national buzz when he picked Fresno State over Hawaii and Utah State. Now, the athletic guard has a 50 million dollar contract from the Miami Heat.
Because of his older brother's success, Johnson knows that you don't need a big reputation to make it big. He also knows that nothing is given.
"He tells me to put my head down and grind," Johnson told Rivals.com. "Nobody is going to give me anything and you have to work for everything that you get in life. My mom taught us that at a young age. Her being in the military for 31 years taught us that you have to put your head down and grind."
Already holding offers from programs like Fresno State. St. Mary's, Santa Clara, Utah State, Montana, UC Santa Barbara and Cal Poly, Johnson hasn't gone totally under the radar and he's not concerned about publicity.

"It's not about glitz and glamour at all," said Johnson. "I would be in the gym all day if I could trying to get better at everything. You can never stop improving your game. Kobe Bryant says that all the time. When you see a guy like that who has five championship rings and is considered one of the best of all time thinks like that, you have to think like that too."
During April, Johnson was also evaluated closely by most of the Pac 12 while playing for Tyler Johnson Elite and he's planning to visit San Diego State soon. On the college level he sees himself as a point guard who can score and he loves to play both ends of the floor.

"I'm capable of bringing the rock up the court, that's no problem for me," said Johnson. "I'm a pass first guy so I think I'll be most comfortable at the point guard but I can score too so anywhere that a coach needs me, I'm good with it."
"Defense, I really like to get after guys. Whenever we play against other good players or big name guys, I always want to be the one to get in them defensively."
In no rush to make a decision, Johnson feels like he has a strong support system around him. He would like to test himself at the highest level, but he's not going to chase offers either.

"I'm not sure about a time yet," said Johnson. "I'm taking my time right now. Obviously, if I get offers from the Pac 12 that would be big but I'm willing to go anywhere. I'll go to any school in any conference if it's right because ultimately you just have to put your head down and work."