July evaluation hits midway point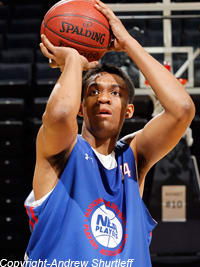 In the world of high school basketball, no single month is more important than July. During July, college coaches can go out and watch prospects during three live evaluation periods that run from the July 11-15, 18-22 and 25-29. Before those evaluation periods even get started, though, the month is tipped off by Nike's LeBron James Skills Academy.
Now that half the month is gone, let's take a look at some of the movers and shakers of the first half, along with what we'll be looking forward to seeing in the second half of the month.













With two more evaluation periods left to go in the month of July, there's still plenty of action left to come. These are a few of the areas Rivals.com will be focusing on during stops across the country.




Finally, who is going to be that one player that comes from seemingly out of nowhere? It happens nearly every July but the first half of the month didn't produce that player who comes from total obscurity to the national limelight. Will it happen in Las Vegas? Could it happen in Orlando? Or, could it happen somewhere in between? Only the next two weeks will tell.

[rl]