Jordan Walker may be attractive 2017 option at point guard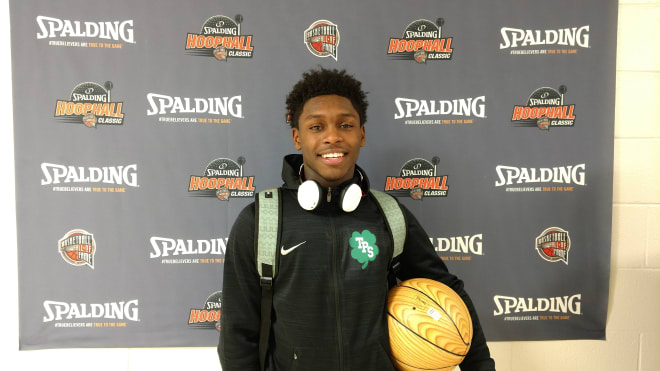 The Patrick School basketball squad is loaded from top to bottom this year. Former Rutgers head coach Mike Rice is helping lead the way, a team that boasts such talents as Kentucky signee and five-star big man Nick Richards, to go along with others committed to Minnesota and Monmouth. However, the catalyst for the Jersey program this winter is neither of those three but rather it is Jordan Walker, a 5-foot-11 lead guard that has seen his stock soar in recent months.
Walker had 15 points, 11 assists, nine rebounds and four steals in his team's win at the Hoophall Classic in Springfield, Mass., earlier this month, showing why Oklahoma State, Indiana, Seton Hall and a bevy of others have gotten involved with the top-150 recruit.
Walker embodies everything that one looks for in a high-major point guard. The tough-nosed playmaker can score from all three levels on the floor, is quite possibly the best post feeder in the nation, and can be leaned upon for his lethal on-ball defense.
Walker is likely headed to a prep school after graduating this spring, making him a member of the 2018 class and giving him a chance to boost his stock even further. Or, he could stay in the class of 2017 and join a college team in the fall.
"I don't really know that as of right now but I will make that decision later on," Walker said. "It just depends on the school. If it fits me best and I feel like I can be a really big asset right away, I will go. If not, I don't know then."
IN HIS OWN WORDS
Walker discussed teams that have been talking to him.
"Seton Hall is recruiting me really hard, Indiana just started recruiting me hard, LSU and Providence; that's probably the ones I know off the top of my head," Walker said. "I like Seton Hall but I like a lot of different schools. They are local and they're one of the first schools that started recruiting me hard."
WHAT'S NEXT
No decision is expected any time soon from Walker on whether or not to attend a college in the fall. Do be on the lookout for a slew of unofficial visits to take place before any types of plans are set. In the meantime, Walker will remain the head of the snake that is The Patrick School basketball team this winter before running with the Southern Stampede travel team this spring and summer.
RIVALS REACTION
Point guard play has become more and more vital in recent years and seeing that several programs have swung and missed on some of their top lead guard recruits earlier in the year, it comes to no surprise the amount of attention that Walker has stirred up. The fact that many more are just learning that he could attend a college this year instead of next changes things a bit further. The Jersey native is likely to become one of the more talked about recruits this winter thanks to the dearth of available point guards and because of Walker's ability to affect both sides of the basketball.