Jordan Brand Classic: Five-stars Lonnie Walker and Brian Bowen share MVP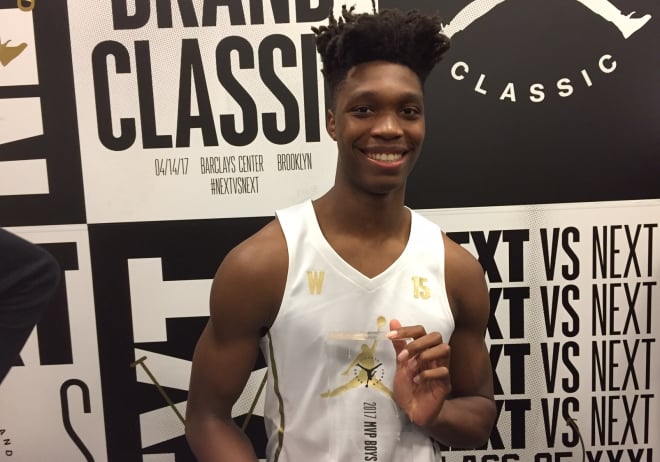 BROOKLYN – At the Jordan Brand Classic chants of "MVP, MVP, MVP" and "Lonnie, Lonnie, Lonnie" echoed throughout the Barclays center as a sizeable and vocal cheering section from five-star Lonnie Walker's hometown of Reading (Pa.) urged him on. The Miami bound shooting guard responded with 19 points to win MVP honors and lead the West squad to 124-116 win over the West.
After winning a state title in his senior year, Walker played in front of at least 250-300 fans who made the trip to see the Miami bound shooting guard play in the game. During a key second half run, Walker fed off their energy as he went on a scoring barrage by getting out in transition.
"I got into the flow for the game. I had a breakaway and it's an All-Star game so you had to know what you are doing. In an All-Star game there's not too much defense honestly so whenever somebody got a rebound I'm gone and already dang near by the rim. So they get me the ball and it's pretty easy versus a half court set trying to score against two seven-footers which is nearly impossible.
"That love from my hometown made me go harder. Everything I did was for them. Everything that I had, their energy made me push harder. If they weren't here lord knows how I would have played."

BOWEN WINS MVP HONORS FOR EAST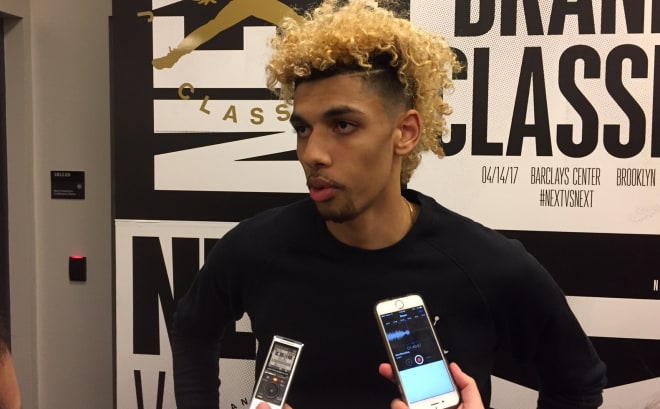 Still undecided, five-star small forward Brian Bowen did everything he could to keep the East in the game. Hot from the floor, the 6-foot-7 senior from La Porte (Ind.) La Lumiere made six of his seven three point attempts to finish with a game high 26 points and a pair of rebounds.
"It felt great, I worked hard and I came in here and knew I had to make a statement," said Bowen. "I played hard and my teammates helped me get the ball and I hit the shots. It felt good.
"I think New York is my spot."
With a circuit of All-American games out of the way, Bowen said it's time to switch from having fun into decision making mode.

"During the All-Star games I've been worried about just having fun," said Bowen. "Now it's about a business decision and I'm making that decision this month and going from there."
Down to a final five of Arizona, Creighton, Michigan State, NC State and Texas, Bowen has had other programs try to get involved late. However, he says the plan is to stick with his five and hopefully make a decision before the end of the month.

"So many schools have tried to get involved because I'm still uncommitted," said Bowen. "So many guys who are committed have tried to talk to me as well but I'm going to stay with my same five as of now."

JBC GAME NIGHT NOTES
*In possession of a release from his letter of intent with Georgetown, four-star point guard Tremont Waters said that the two schools he has spoken with personally are Creighton and Western Kentucky. He will still consider the Hoyas after an in home visit with Patrick Ewing and said that other schools have been in contact with his father but he hasn't gone over them with him.
*Also saving his best effort of the All-Star circuit for the JBC was 2017's No. 3 ranked player DeAndre Ayton. The seven-footer bound for Arizona was active on the glass and committed to playing strong on the interior finishing with 19 points and eight rebounds for the victorious West squad.
*Before suffering an injury to his right ankle with under 40 seconds to go in the game, the East's Jarred Vanderbilt had a tremendous outing. The Kentucky signee finished with 17 points and eight rebounds to finish a strong run on the All-Star game circuit. After the game, Vanderbilt was wearing a walking boot on his foot but the extent of his injury is unknown.
*Unsigned senior Kevin Knox finished a strong week in New York with 12 points and three rebounds in the West's win. Knox is headed home for spring break and the five-star forward said that he plans to have in home visits with his five finalists Duke, Florida State, Kentucky, Missouri and North Carolina. Knox also mentioned May 10th as the longest it would take for him to have a decision. Most recently, talk has been that Duke, Mizzou and UNC are the three teams to beat. However, multiple players at the game told Rivals.com to watch out for the home state Seminoles with Knox. In other words, his recruitment is looking as clear as mud.
*Unsigned five-star center Brandon McCoy recorded the games only double double scoring 15 points and grabbing 13 rebounds in just 20 minutes of action. Down to Arizona, Michigan State, Oregon, San Diego State and UNLV, McCoy indicated again that a decision could be coming soon but he hasn't set an exact date.